ABM Archive Website
THIS WEBSITE CONTAINS ARCHIVE MATERIALS FOR HISTORICAL REFERENCE ONLY
For up-to-date information, including our latest appeals, news, and resources, please visit our current website.
Solomon Islands: Church Capacity Building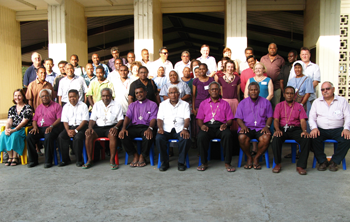 ACOM Partner Round Table Conference in Honiara. © ACOM 2014
ABM supports activities in the Solomon Islands that promote Church Capacity Building. These include activities such as training and awareness sessions on community development, child protection principles and gender awareness.
As part of the institutional strengthening process, in 2014 the Anglican Church of Melanesia (ACOM) organised a Partner Round Table Conference in Honiara, which ABM representatives attended.
This Partner Round Table was the first conference of its kind for ACOM, and signalled a new era in the church's history.
Bringing together the bishops of the nine dioceses, the heads of Anglican religious orders, partner development agencies and the staff of ACOM Provincial Headquarters, the conference sought to both cement the earlier strategic planning work sponsored by ABM, and coordinate practical steps to action.
The conference aimed to improve communication and highlight priorities for all partner agencies.
Jess Sexton, Solomon Islands Program Officer said, "Participants were encouraged to speak their minds and, in an atmosphere of respect and openness, discussed the priorities identified by ACOM. Many common points for collaboration were noted, with new and existing partner agencies supporting the ambitious three-year strategic plan."
To continue to help the church in the Solomon Islands strengthen their projects as well as build strategy, please support this tax-deductible project.
SB012IS – Church Capacity Building needs $16,500 in 2015
HOW TO DONATE
You can make an online donation to this project by selecting Solomon Islands: Church Capacity Building from the full project list.
Alternatively, for donations by cheque/money order (made out to the Anglican Board of Mission – Australia), telephone or email, view contact details here. Please don't forget to include the project name and/or code with your payment details.
Project Update
July 2015 – ABM supports the Anglican Church of Melanesia (ACOM) as it continues to grow and expand its Community Development programs. This year, several key workshops and training sessions were conducted as a result, guided by the churches' newly developed Strategic Plan. Read more.