ABM Archive Website
THIS WEBSITE CONTAINS ARCHIVE MATERIALS FOR HISTORICAL REFERENCE ONLY
For up-to-date information, including our latest appeals, news, and resources, please visit our current website.
Solomon Islands: Disaster Risk Reduction & Emergency Support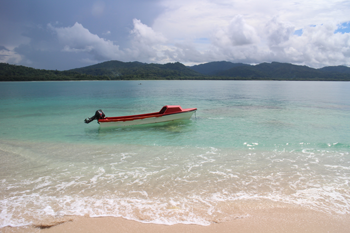 The Solomon Islands. © ABM/Jessica Sexton 2014
The Solomon Islands are at risk from the effects of climate change and natural disasters.
In April 2014, flash flooding hit the Solomon Islands causing major destruction. After many days of rain, rivers burst their banks and destroyed homes and bridges, leaving thousands of people displaced.
George Kiriau, former General Secretary of the Anglican Church of Melanesia (ACOM), gave an account of the situation.
"I live in Honiara for most of my life and I have never seen such heavy rain. It was then announced a tropical cyclone was developing to the south of the country. As a result of the heavy rain, there was heavy flooding along the rivers in the capital especially along Mataniko River. The village's church, St John Baptist Church, had only its roof showing in the river."
ABM assists in disaster situations like this. To help during the floods, funds were sent to our Partner and consequently, food supplies were distributed to the 22 evacuation centres in Honiara and also to the Church's institutions which include schools and religious orders.
But even more importantly, ABM is supporting our Partner the Anglican Church of Melanesia to create an organisational wide Disaster Action Plan, which encompasses all dioceses within the Solomon Islands, Vanuatu and New Caledonia.
The need is huge, especially across the Melanesian region, which forms part of the Pacific 'Ring of Fire,' where a high prevalence of earthquakes and volcanic eruptions are a constant threat.
As the effects of climate change take their toll, the region's atoll islands are also coming under increasing threat. King tides, rising water levels and salt intrusion into water supply and crops is causing havoc in the region; all effects which are classed as contributing to a 'slow onset disaster'.
There are many factors in the Solomon Islands that threaten disaster. Please give to this tax-deductible project so the risk can be reduced and emergency support offered.
SB012EP – Disaster Risk Reduction & Emergency Support needs $26,000 in 2015
HOW TO DONATE
You can make an online donation to this project by selecting Solomon Islands: Disaster Risk Reduction & Emergency Support from the full project list.
Alternatively, for donations by cheque/money order (made out to the Anglican Board of Mission – Australia), telephone or email, view contact details here. Please don't forget to include the project name and/or code with your payment details.
Project Update
July 2015 – The Solomon Islands are increasingly vulnerable to the effects of climate change and natural disasters. Just this year, two devastating cyclones have affected various islands within the archipelago, causing widespread damage and loss of life. Read more.