ABM Archive Website
THIS WEBSITE CONTAINS ARCHIVE MATERIALS FOR HISTORICAL REFERENCE ONLY
For up-to-date information, including our latest appeals, news, and resources, please visit our current website.
Update: Disaster Risk Reduction and Climate Change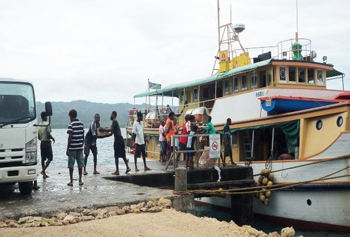 Loading emergency supplies onto ACOM's ship the Southern
Cross. © ACOM 2013
The Solomon Islands are increasingly vulnerable to the effects of climate change and natural disasters.
Just this year, two devastating cyclones have affected various islands within the archipelago, causing widespread damage and loss of life. In April Tropical Cyclone Pam brought strong winds and heavy rain to Temotu and the remote islands further east, destroying homes and family gardens before moving on to Vanuatu. And in early July, Tropical Cyclone Raquel became the first ever recorded winter cyclone in Queensland waters since satellite monitoring began in the 1970s. High winds and rain affected the Solomon Island provinces of Western, Choiseul, Isabel and Malaita, with one confirmed death and 40,000 affected families in Malaita alone.
ABM is committed to supporting the Anglican Church of Melanesia (ACOM) in preparing communities for these increasingly frequent disasters. This involves the implementation of a Disaster Risk Reduction program, especially developed for the Solomon Islands context, and drawing on the existing strengths and resources within communities. Through this program, communities are empowered to map evacuation routes appropriate to each type of possible disaster, considering the safety of the most vulnerable such as elderly, children and the disabled. Evacuation centres are identified and equipped, and Disaster Committees are formed and trained in emergency leadership roles.
Also incorporated into this program is the continued development of the organisational wide Disaster Action Plan. This involves the identification and training of teams within ACOM Provincial Headquarters, tasked with specific responsibilities in the aftermath of a disaster. A key feature of this plan includes the establishment of a distinct 'line of communication', enabling information to flow between the ACOM Provincial Headquarters, Diocesan offices and right through to every local parish and community. This will enable information on the extent of damage to be quickly communicated, and a response organised with maximum efficiency.
As the effects of climate change take their toll, the region's atoll islands are also coming under increasing threat. King tides, rising water levels and salt intrusion into water supply and crops is causing havoc in the region; all effects which are classed as contributing to a 'slow onset disaster'. ACOM recently began supporting the new Pacific Council of Churches Resettlement Officer, who is tasked with coordinating the resettlement of communities affected by these consequences of climate change. ABM funding will assist this work, assisting both short and long term solutions.
By giving towards this program, you can make a tangible difference in the lives of many facing disaster in the Solomon Islands, and help to alleviate the severity of the impact.
< Back