ABM Archive Website
THIS WEBSITE CONTAINS ARCHIVE MATERIALS FOR HISTORICAL REFERENCE ONLY
For up-to-date information, including our latest appeals, news, and resources, please visit our current website.
Solomon Islands: Church Capacity Building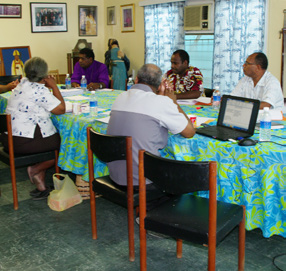 A strategic planning meeting for the Anglican Church
of Melanesia. © Vivienne For/ABM, 2013.
This is part of the Community Development Program: Learn more about ABM's Programs here

ABM supports the Anglican Church of Melanesia (ACOM) as it continues to grow and expand its Community Development programs. To facilitate this, in 2015 several workshops and training sessions were conducted, guided by the churches' newly developed Strategic Plan.
A Strategy Workshop was held in order to assess the goals of the church, identify Key Performance Indicators (KPIs), and develop an implementation plan with staff, budgets and a timeline.
The responsible dioceses are now required to add further detail to this implementation plan, and once submitted to the ACOM Provincial Headquarters, will guide work in both Community Development and Church activities, focusing energy and resources for maximum effectiveness.
Strengthening Disaster Risk Reduction procedures has also been a major focus of this project, allowing staff to learn from peers in other Partner countries. There has also been training in effective monitoring, evaluating and reporting of projects.
Most recently the entire financial staff from both ACOM Solomon Islands and Vanuatu received training in financial management systems, funded by ABM. This training was delivered by South Pacific Software Services, and included expert guidance on the use of the Attache accounting system to support work in acquittal reporting on Community Development projects.
By supporting these vital workshops and training sessions, you will help the Anglican Church of Melanesia strengthen its systems, management and people to deliver increasingly more effective Community Development programs throughout the Solomon Islands.
SB012IS – Church Capacity Building needs $12,000 in 2016 (tax-deductible)
HOW TO DONATE
You can make an online donation to this project by selecting Solomon Islands: Church Capacity Building from the full project list.
Alternatively, for donations by cheque/money order (made out to the Anglican Board of Mission – Australia), telephone or email, view contact details here. Please don't forget to include the project name and/or code with your payment details.
Gifts to ABM will be applied to the support of project(s) selected. In the unlikely event of the project being oversubscribed or not proceeding to completion, donations will be applied to a similar project to the one(s) selected.
PROJECT UPDATE
September 2016 – A Capacity Building workshop was recently held with the Anglican Church of Melanesia (ACOM), ABM's partner in the Solomon Islands. The workshop was for ACOM Heads of Department, Treasurers and Commercial Holdings Managers, to further enhance their existing knowledge and skills. Read more.
< Back