ABM Archive Website
THIS WEBSITE CONTAINS ARCHIVE MATERIALS FOR HISTORICAL REFERENCE ONLY
For up-to-date information, including our latest appeals, news, and resources, please visit our current website.
Solomon Islands: Positive Parenting Program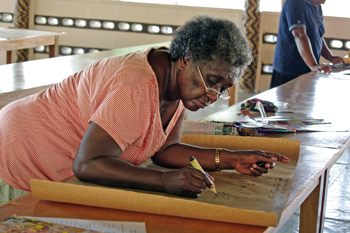 Women participate in workshops to discuss ideas around
topics that are not discussed openly in Melanesian culture.
© ABM/Vivienne For, 2013.
This is part of the Community Development Program: Learn more about ABM's Programs here

In Melanesian culture, issues such as sex, early marriage, child abuse and other forms of family violence are often taboo to discuss. Facilitators of the Positive Parenting Program work hard to break down the barriers and the unhelpful traditional beliefs that may be harmful to children within families and communities.
This program is based on building relationships of trust within small groups to tackle issues and questions which affect parents. Topics covered in a parenting group range from 'the development stages of the child' to teenage sexual reproductive health, along with domestic violence and child abuse.
The Positive Parenting Program is run through the Mothers' Union (MU), a strong arm of the Anglican Church of Melanesia with around 16,000 members in the Solomon Islands and Vanuatu.
The Mothers' Union considers the core of their work to be the support of parents. Through participation in a peer parenting group, parents can realise the love and friendship within their wider families and communities, finding the support they need to raise children in the best possible environment.
The Positive Parenting course is a worldwide Mothers' Union Program which has been implemented in Guyana, Jamaica, Kenya, Rwanda, Trinidad and Tobago and Uganda. It is based on a volunteer ethos – preventing the creation of aid dependency – which uses the strengths of church organisations to invite communities to elect volunteer facilitators to undertake training and run parenting groups in their parishes.
This pilot program is now in its third year in the Solomon Islands and great progress is being made in the Diocese of Central Melanesia. Steady growth saw 12 groups completed in 2015. Due to this success the coordinators are receiving requests to run the course for teachers from local primary and high schools, staff at local women's hostels, clergy from the churches, and members of the Honiara Police force.
All these groups have seen the benefit that this program is having in the lives of community members around Honiara, and wish to share it more widely.
In 2016, the Positive Parenting Program will be supported to extend this momentum into the remaining dioceses of the Solomon Islands. Your donation will assist in continuing to train local volunteer facilitators, support the establishment of new parenting groups and monitor the program.
SB012YC needs $6,000 in 2016 (tax-deductible)
HOW TO DONATE
You can make an online donation to this project by selecting Solomon Islands: Positive Parenting Program from the full project list.
Alternatively, for donations by cheque/money order (made out to the Anglican Board of Mission – Australia), telephone or email, view contact details here. Please don't forget to include the project name and/or code with your payment details.
Gifts to ABM will be applied to the support of project(s) selected. In the unlikely event of the project being oversubscribed or not proceeding to completion, donations will be applied to a similar project to the one(s) selected.
PROJECT UPDATE
August 2016 – The Mother's union in the Solomon Islands have recently announced a new coordinator for the Positive Parenting Program. Mr George Kiriau was appointed to the coordinator position by MU President Mary Vunagi. Read more.
< Back