ABM Archive Website
THIS WEBSITE CONTAINS ARCHIVE MATERIALS FOR HISTORICAL REFERENCE ONLY
For up-to-date information, including our latest appeals, news, and resources, please visit our current website.
Solomon Islands: Positive Parenting Program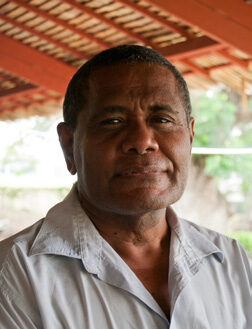 George Kiriau, new coordinator for the Positive
Parenting Program © Vivienne For/ABM 2013.
This is part of the Community Development Program: Learn more about ABM's Programs here


Support of this project will allow the Positive Parenting Program to continue to thrive in the Solomon Islands. Moving into its fifth year, facilitators work to break down the barriers and the unhelpful traditional beliefs that may be harmful to children within families and communities.
The small groups in this program cover topics such as sex, early marriage, child abuse and other forms of family violence which are often taboo to discuss in Melanesia.
In mid 2016, Mr George Kiriau, former General Secretary of the Anglican Church of Melanesia, was appointed the new coordinator for the Positive Parenting Program and will serve the ever-expanding network of Positive Parenting facilitators and diocesan leaders.
As one of the first duties in his new role, Mr Kiriau organised a Facilitator Training session for the Diocese of Central Solomons, in order to equip new facilitators with the skills and knowledge to run their own Positive Parenting sessions. Held over several weeks in July, this training included three distinct sections to achieve this aim.
First, the pre-course work involved participants thinking about their own experiences of being parented, reflecting on their experiences of parenting or caring for children, and thinking about parenting issues in the present culture.
The Facilitator Training course offered information on family dynamics, child development, cycles of abuse and positive discipline methods. The skills needed to facilitate a group are also discussed, including leading, speaking, and listening techniques.
Facilitators were then able to participate in an Intensive Parenting group session for six days, led by an experienced facilitator, before setting up their own parenting group. There were 18 participants in the Facilitator Training session, who will now be supported by the Mothers' Union in Central Solomons, as well as their local parishes and clergy.
Among the group, the participants acknowledged that this training has helped them not only in becoming facilitators, but also as parents. One woman said, "I realise I have gifts and the potential to do great things, and in this training I have been helped to build my confidence in speaking, especially given opportunities to speak, and the presentations in front of the group."
A gift to this project will allow others to realise their gifts and potential to teach communities in Melanesia about positive parenting throughout 2017.
SB012YC needs $7,000 in 2017 (tax-deductible)
HOW TO DONATE
You can make an online donation to this project.

Alternatively, for donations by cheque/money order (made out to the Anglican Board of Mission – Australia), telephone or email, view contact details here. Please don't forget to include the project name and/or code with your payment details.
Gifts to ABM will be applied to the support of project(s) selected. In the unlikely event of the project being oversubscribed or not proceeding to completion, donations will be applied to a similar project to the one(s) selected.
PROJECT UPDATE

October 2017 – The value of Positive Parenting. Mary has a husband and 5 children, and lives in Gela on the island of Nggela Sule, just to the north of Guadalcanal. Read more.

June 2017 – Three powerful stories of change are told by parents that have attended the Positive Parenting workshops. Read more.
February 2017 – Danny and Alan are ex-prisoners. They met in the Honiara Men's Prison, where they were serving time for various offenses, some violent. Whilst there, they heard of the Positive Parenting Program that was being run by the Mothers' Union and the Anglican Church of Melanesia, supported with ABM funding. Curious about what this program might involve and inspired by the good reports of other inmates who had attended, Danny and Alan joined in. They could never have guessed at that moment just how life changing this decision would be. Read more.
< Back