ABM Archive Website
THIS WEBSITE CONTAINS ARCHIVE MATERIALS FOR HISTORICAL REFERENCE ONLY
For up-to-date information, including our latest appeals, news, and resources, please visit our current website.
Solomons: Positive Parenting update
October 2017
The value of Positive Parenting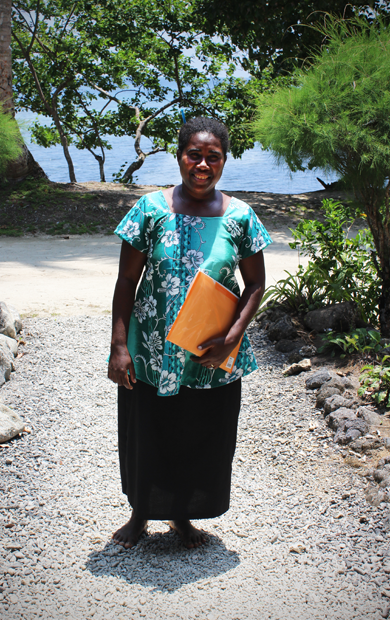 Mary attends the Positive Parenting workshop. © Mother's Union
Worldwide 2016. Used with permission.
Mary has a husband and 5 children, and lives in Gela on the island of Nggela Sule, just to the north of Guadalcanal.
She attended the Positive Parenting program, run by the Mothers' Union through the Anglican Church of Melanesia, which is supported with funding from ABM.
During a visit earlier this year, Mary was interviewed by Mothers' Union worldwide Program Coordinator, Anne-Marie Clive. Her revelations about parenting and child development were striking, as was the desire to implement immediate change for the sake of her children. Here is an excerpt from that interview;
"With my first child, I didn't know how to look after her or breastfeed her or take care of her properly. I didn't know anything about the development of a child. The same thing happened with my second child, although I had developed a few more skills. Same again with my 3rd, 4th and 5th.
This workshop has been the first time I have really learnt about what it is to be a parent and about the development of children.
This workshop has taught me it is important to raise your children in the right way. I used to be a bad mother, I got angry easily and beat my children with my hand or sticks.
I now realise that this was not just discipline, but was hurting them mentally AND physically. It also harms them spiritually. They are not developing properly and would always react to me in a negative way. Now when going home since the first day things have already started to change.
I changed my approach straight away because I felt guilty. I realised my failures as a parent. No more sticks, no more beating. I have already started applying this since Monday, and the children are beginning to say "You're being so nice" and "You've changed this week."
One of the founding coordinators for this Positive Parenting program in the Solomon Islands is Mary Vunagi, who is now the President of the Mothers' Union. She also recounted some stories of memorable moments during her time of running the workshop;
"A policeman attended the Facilitators training and didn't agree that you shouldn't beat your children or wife. He was adamant, but then we had the "Unlearn to learn" session and he realised. Now he has good relationships with his children." – Mary Vunagi (PMU President)
"One women came into a parenting group and was silent. She did not talk the whole time, until the very last day. Then she joined in on the theatre session. She found her voice."
ABM would like to thank all our supporters who have generously given to this program. Your actions and prayers are making an incredible difference in the lives of parents and families throughout the Solomons Islands, bringing the tangible peace and understanding to household so that children can flourish.