ABM Archive Website
THIS WEBSITE CONTAINS ARCHIVE MATERIALS FOR HISTORICAL REFERENCE ONLY
For up-to-date information, including our latest appeals, news, and resources, please visit our current website.
Solomon Islands: Church Capacity Building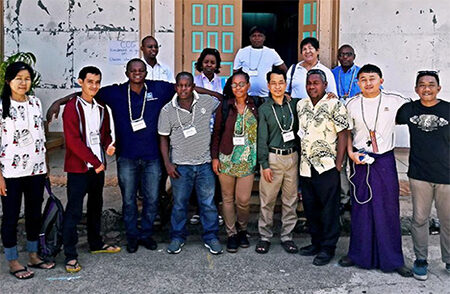 Casper Sikou (third from right in front row) poses for a group photo at the E-CARE
Development Training course. © ECP 2017. Used with permission.
This is part of the Community Development Program: Learn more about ABM's Programs here

This project seeks to support the Church in the Solomon Islands to learn more about the
management of its affairs and
provide opportunities for its staff which will allow its community development work to be effective and efficient.
Casper Sikou, the Community and Social Development Coordinator for the Anglican Church of Melanesia, attended the E-CARE intensive trainings in the Philippines in 2017. His training was one example of the work supported by ABM under the Church Capacity Building program.
Casper shared his experience: "More than 12 participants from members of the Anglican Communion in Africa, Asia and the Pacific undertook three weeks of Church Capacity Building for Development intensive training on international development, capacity building and learning in Tadian, Mountain Province in the Philippines.
"The training was conducted by different trainers with expertise from the E-CARE Foundation (Episcopal Community Action for Renewal and Empowerment Foundation in the Philippines) and was supported by different Anglican partners internationally.
"The Prime Bishop of the Episcopal Church in Philippines (ECP), the Most Rev Renato Abibico, warmly
welcomed the international participants and assured them of the importance of ECP and E-CARE's partnership with Anglican Communion members overseas and their development work in their respective countries, equip them with new knowledge, approaches and learning opportunities to carry out their responsibilities effectively."
He further highlighted that, as Anglican Communion members throughout the world, it is important that we, in our community development aspirations and initiatives, should embrace our Anglican members
through our pastoral and spiritual approach.
The E-CARE Foundation is now what was formerly known as the Community-Based Development Program. It is one of the programmatic expressions of the Five Marks of Mission for ECP.
SB012IS – Church Capacity Building needs $14,058 in 2018 (tax-deductible)
HOW TO DONATE
You can make an online donation to this project.

Alternatively, for donations by cheque/money order (made out to the Anglican Board of Mission – Australia), telephone or email, view contact details here. Please don't forget to include the project name and/or code with your payment details.
Gifts to ABM will be applied to the support of project(s) selected. In the unlikely event of the project being oversubscribed or not proceeding to completion, donations will be applied to a similar project to the one(s) selected.
< Back