ABM Archive Website
THIS WEBSITE CONTAINS ARCHIVE MATERIALS FOR HISTORICAL REFERENCE ONLY
For up-to-date information, including our latest appeals, news, and resources, please visit our current website.
Solomon Islands: Disaster Risk Reduction and Climate Change project update
April 2017
The Anglican Church of Melanesia (ACOM) recently provided an update on all their Disaster Risk Reduction and Climate Change activities, including the installation of the water tanks purchased last year with ABM funding.
Over 1000 residents in disaster-prone areas are now able to access these eight new tanks, making a significant difference to their general health and wellbeing.
The St. Claire Rural Health Clinic, located in the Central Island Province of the Solomon Islands, was one of the recipients. The Health Clinic has been tirelessly serving the people of the province for many years, both Anglican and non-Anglican families, caring for the sick despite the challenges of limited resources and access to clean water.
One of the Seniors Nurses acknowledged the timely support given by ACOM and ABM, sharing her experience of the difficulties facing staff and patients when water is scarce.
"We tried to treat our patients everyday of their sickness, but at the back of our head we also tried to address the water shortage in our clinic, which is too difficult", she said. "At the end of the day, it is our children and our people that we serve. One water tank alone cannot solve the whole problem, but at least part of it has been dealt with and we must thank ACOM for this generous assistance."
The local media have also acknowledged the efforts of the Anglican Church of Melanesia in this area. An article was written late last year describing the Disaster Risk Reduction and Climate Change activities that were being implemented, including critical training that staff were undergoing, enabling greater effectiveness and efficiency going forward.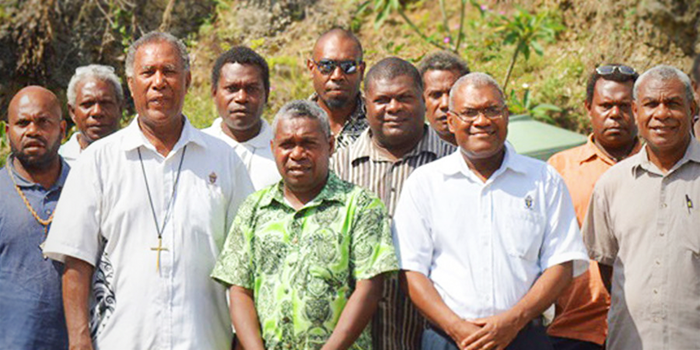 ACOM staff pose for a photo with The Island Sun.

ACOM Aid and Programme Officer,

Mr Casper Super (pictured in centre front in green shirt) is managing the DRR and Climate Change project.

© The Island Sun, 2016.
To read this article, please click here.

ABM would like to thank everyone who has generously donated towards this Disaster Risk Reduction project. The Solomon Islands are particularly vulnerable to the effects of long-term Climate Change, including the increasing frequency and severity of extreme events such as droughts, tropical cyclones and strong storm surges. Your ongoing support will ensure families and communities are well prepared to deal with future natural disasters, and recover quickly in the aftermath.