ABM Archive Website
THIS WEBSITE CONTAINS ARCHIVE MATERIALS FOR HISTORICAL REFERENCE ONLY
For up-to-date information, including our latest appeals, news, and resources, please visit our current website.
Anglican Church of Melanesia's Partner Round Table Conference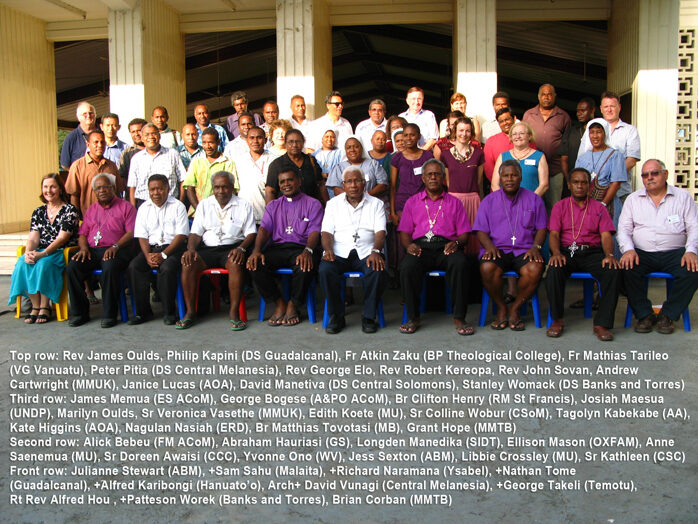 ABM recently participated in the Anglican Church of Melanesia's Partner Round Table Conference in Honiara from 5th to 7th June 2014. Jess Sexton, our Solomon Islands Program Officer, recounts her experience of the conference:
This Partner Round Table was the first conference of its kind for the Anglican Church of Melanesia (ACOM), and signalled a new era in the church's history. Bringing together the bishops of the nine dioceses, the heads of Anglican religious orders, partner development agencies and the staff of ACOM Provincial headquarters, the conference sought to both cement the earlier strategic planning work sponsored by ABM, and coordinate practical steps to action.
Archbishop David Vunagi opened the first day with a summary of the conference objectives:
To make the priorities of ACOM clear to all participants
To enable all participants to understand the role of various partner agencies, and how strengths can be utilized most effectively
To improve communication and understanding between ACOM and partner agencies
To plan for the strengthening of ACOM's organisational structure
To agree on the specific priorities which partner agencies can work on together with ACOM
Participants were encouraged to speak their minds, and in an atmosphere of respect and openness, discuss the priorities identified by ACOM. Many common points for collaboration were identified, with new and existing partners supporting various aspects of the ambitious 3-year Strategic plan. Past difficulties were also discussed, and plans made to avoid or mitigate these in the future.
ABM reaffirmed its commitment to supporting both the Mother's Union programs, and the broader strengthening of the ACOM Community Development administration. Dr Julianne Stewart, Programs Director for ABM, and I had the opportunity to meet with the Mothers' Union senior staff. It was inspirational hearing of the good work that is happening in the Bildim Ap and Positive Parenting programs, with literally hundreds of facilitators being trained for community leadership.
It was a pleasure to meet the many passionate, dedicated people that form the ACOM staff and church leadership, and I look forward to working with them to see positive, tangible improvement in the lives of Solomon Islanders impacted by the ACOM programs.
Jess Sexton
Solomon Islands Program Officer
June 2014
< Back