ABM Archive Website
THIS WEBSITE CONTAINS ARCHIVE MATERIALS FOR HISTORICAL REFERENCE ONLY
For up-to-date information, including our latest appeals, news, and resources, please visit our current website.
Solomon Islands: Three Projects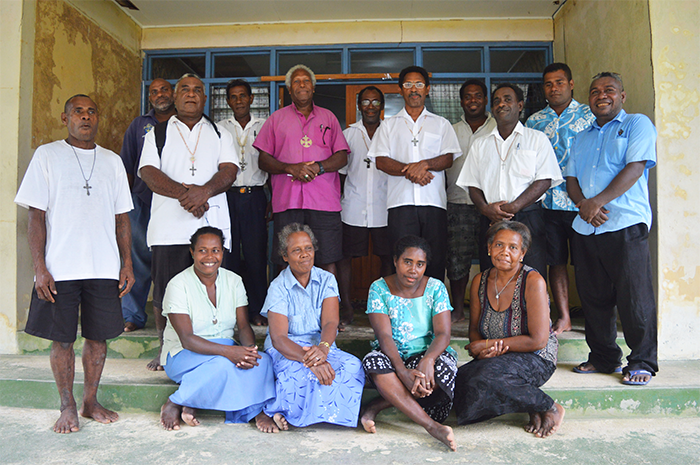 The Anglican Church of Melanesia trains representatives from the Diocese of Central Solomons in Disaster Risk Reduction and Climate Change, April 2018. © ACOM, Solomon Islands. Used with permission.
ABM supports three projects in the Solomon Islands. These projects are all implemented by the Anglican Church of Melanesia (ACOM).

Disaster Risk Reduction and Climate Change Program
The support of ABM's generous donors is making a difference to communities and schools in low lying parts of the Solomon Islands which have been affected by rising sea levels. Your donations mean a lot to the people in these vulnerable places. For example, during 2019 funds for this project were used to provide three rainwater tanks to communities in Fanalei which have been impacted by increased salinity of previously fresh water supplies. We all know how essential water is for life. But, as the sea level rises, so does the hardship people face in having to go further and further afield to fetch water each day and move their gardens away from the encroaching salty water.
It seems ironic that Fanalei is where a lot of previous research has been carried out, documentaries have been made about climate change, yet the situation continues to deteriorate for communities there.
Your continued support can further assist ACOM to train local communities and schools in the things they can do to protect themselves against both sudden disasters such as cyclones, and the slower disasters of climate change. Your support will also help to provide replacement water storage where traditional sources of water have become unusable.
Positive Parenting Program
ACOM Mothers' Union has been rolling out the Positive Parenting Program in both the Solomon Islands and Vanuatu for around eight years. In that time, with strategic assistance from ABM's donors, the program has reached all of ACOM's nine dioceses. Facilitators have been trained, with Hanuato'o, in the country's south, the most recent diocese to join the program.
The Positive Parenting Program aims to equip parents to support their children's development, establish community support networks for families, and address a range of social challenges including gender-based violence, child abuse, early marriage, and improve disability inclusion.
As well as training parents (both men and women) in the church and communities, the program has also been successfully implemented in prisons, helping prisoners to understand the sources of and solutions to their own violent behaviour.
The idea is first to train program leaders who become advocates and gain support for the program from the church and community leaders within the diocese. Leaders then spread awareness of the program. Once this is done, 12 facilitators are trained in each diocese. Each facilitator gets a group of parents together in their own community and runs a twelve week program with them. In order to get real community buy-in, a Parenting Committee is formed to support the groups.
The Positive Parenting Program has transformed lives. As ABM's Kate Winney has witnessed: "The participants were asked to write down negative parenting habits, their 'old ways', and any descriptions of hurt or pain they may have experienced. Whilst singing hymns, these pieces of paper were nailed onto a cross and the next day were discarded in a fire as part of a ceremony. It was a powerful and personal moment to witness – seeing mothers, fathers, church and community leaders let go and learn from the past, not only as parents but for each participant personally. It was a reminder that this program is transformative – of families, communities, and people."
Church Capacity Development
ABM has been supporting the Anglican Church to contribute to the development of the Solomon Islands for many years. With your help, we've supported the church to develop their strategic planning, train Mothers' Union members in counselling skills, improve financial management and help ACOM members get community development training.
With the Diocese of Brisbane, we've supported an ACOM development staff member to travel to a Climate Reality workshop in Brisbane, and funded the engagement of a consultant to review ACOM's Child Protection policy.
Each of these activities has been in response to the church's requests. We would like to keep supporting our sister church in this way, and can only do this with your help.
» In 2020 the Solomon Islands projects need $78,150
All donations for all three Solomon Islands projects are tax-deductible.
HOW TO DONATE

Alternatively, for donations by cheque/money order (made out to the Anglican Board of Mission – Australia), telephone or email, view contact details here. Please don't forget to include the project name and/or code SB012GZ with your payment details.
Gifts to ABM will be applied to the support of project(s) selected. In the unlikely event of the project being oversubscribed or not proceeding to completion, donations will be applied to a similar project to the one(s) selected.
< Back