ABM Archive Website
THIS WEBSITE CONTAINS ARCHIVE MATERIALS FOR HISTORICAL REFERENCE ONLY
For up-to-date information, including our latest appeals, news, and resources, please visit our current website.
South Sudan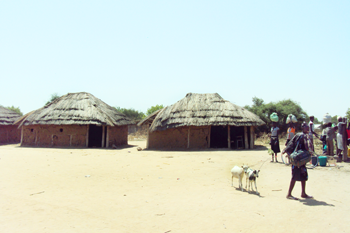 Classrooms in Terekeke, South Sudan.
© ABM/Julianne Stewart 2011
South Sudan became an independent state on 9 July 2011 after a referendum was held, with almost 99% of the population voting for independence. The poll was a result of a 2005 peace agreement to end more than two decades of civil war between north and south Sudan.
There has been ongoing conflict and tension between government troops and rebel forces which has resulted in thousands of internally displaced persons (IDPs) fleeing from violence in various regions, particularly along the disputed border towns in the north. Issues exist over land, oil, cattle-raiding with the latest fighting stemming from political and ethnic differences.
The Episcopal Church of South Sudan and Sudan (ECSSS) comprises about 6 million members across the whole of Southern Sudan, as well as several parts of the north. The church is therefore represented at the grassroots level in the most remote rural areas, as well as its base in the southern capital of Juba.
It is a challenge for the church to fulfil its intention of becoming a force in the rebuilding of this new nation. The church is highly respected by the southern government, and was very strongly involved in mobilising the people to vote in the referendum, as well as helping them to prepare for the huge influx of IDPs from the north.
For Archbishop Daniel Deng Bul Yak, the priority of the Church and its current key focus is to provide emergency support to the people affected by ongoing violence and to that end they have set up a task force to determine how best to do this.
Currently this task force is based in the south, and includes Sudan Development Relief and Advocacy (SUDRA), Health and Education representatives among others. But the plan is also to create a task force in the north.
In 2015 ABM continues to provide assistance to the church through its projects and emergency response to the present crisis in the country.
Please support the ECSSS and the Sudanese people with your gifts and prayers.
2015 projects in south sudan
Updates
20/04/2015 A Statement from the South Sudan Council of Churches and the WCC Consultation on Peace in South Sudan – From 14 to 15 April 2015, church leaders from the South Sudan Council of Churches (SSCC)and the World Council of Churches (WCC) met in Addis Ababa, Ethiopia, to discuss peace in South Sudan. Read the full statement here.
Renewal – the quarterly newsletter of the Diocese of Wau in South Sudan
The newsletter gives an interesting insight into what is happening in the country, and updates on the peace and reconciliation process. ABM supports the Diocese of Wau through the Health Commission Support Project and also through our emergency relief funding for vital needs such as trauma counselling.