ABM Archive Website
THIS WEBSITE CONTAINS ARCHIVE MATERIALS FOR HISTORICAL REFERENCE ONLY
For up-to-date information, including our latest appeals, news, and resources, please visit our current website.
South Sudan: Health Commission Support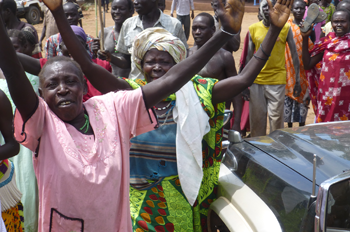 Locals celebrate the opening of Torit-Ofrika Health Centre.
© ABM/Beth Snedden, 2013.
The Episcopal Church of South Sudan & Sudan (ECSSS) has a number of health facilities, although not nearly as many as they would desire, to meet the high needs in rural areas. The strategic plan of the church's Health Commission has a key objective of promotion and facilitation of quality health programs in the dioceses.
Poor health infrastructure and services contributes to concerning statistics in South Sudan including:
• Highest maternal death rates in the world (2,054 per 100,000 live births)
• Mortality rate
• Less than 44% of the population able to access basic health services
• Life expectancy of 54 years.
Although not the primary goal of ECSSS, over the last two years ABM has contributed to funding the construction of two new clinics. These are in Maker village in Wau Diocese, and Ofirika village in Torit Diocese. The church has been occupied with responding to the conflict disaster in 2014, and this has delayed the full completion of these clinics, however they are now operational and the numbers utilising these health services continues to increase.
ABM is partnering with the church in building the Health Commission's management capacity to oversee the diocesan health work, and facilitating improvement in the skills of diocesan health personnel to provide efficient and effective services, to address poor health worker skills in under-utilised clinics around South Sudan. Investment into community health are changing lives in rural areas of South Sudan. Please support this project.
SD010HE – Health Commission Support needs $132,000 in 2015 (tax-deductible)
HOW TO DONATE
You can make an online donation to this project by selecting South Sudan: Health Commission Support from the full project list.
Alternatively, for donations by cheque/money order (made out to the Anglican Board of Mission – Australia), telephone or email, view contact details here. Please don't forget to include the project name and/or code with your payment details.
< Back