ABM Archive Website
THIS WEBSITE CONTAINS ARCHIVE MATERIALS FOR HISTORICAL REFERENCE ONLY
For up-to-date information, including our latest appeals, news, and resources, please visit our current website.
Update:South Sudan Health Commission Support
Bishop Moses and the Commissioner of Gogrial West County
during the official opening of Maker health clinic.
ABM continues to support the ongoing work of the Episcopal Church of South Sudan and Sudan (ECSS&S) in the area of Health Clinic Provision and Management through this project.
Since early 2012, ABM funding has enabled the appointment of a Health Coordinator, Mr Kwaje Charles Philip and the building of two clinics in Maker, a village in Wau Diocese, and Ofirika, a village in Torit Diocese. Currently preparations are being made for the construction of two more clinics – in Aweil and Twic East Dioceses.
The key issue for this current year has been the outbreak of conflict throughout much of the country from December 2013 until May 2014. What has been achieved is actually quite remarkable given the conditions in South Sudan at the present time.
Kwaje sent an update in July 2014, reporting that both Maker and Ofirika Primary Health Care Centres are operational with a large number of patients being seen on a daily basis (although the Maker clinic was closed from March to May due to the conflict).
A motor bike has been purchased for Maker Health Centre with a recommendation that a motor bike also be made available to Ofirika Health Unit. This is so to facilitate weekly reporting to the State Health Department and to the ECSS&S Health Commission in Juba.
Some of the key issues faced by the clinics are poor telephone communication due to lack of mobile telephone coverage, and the need to integrate maternal and child health services with the health facilities. They will look into appointing a staff member at each clinic to focus on maternal and child health services and facility-based deliveries including health education.
Continued support for this project is vital as it is saving lives in a country which is only three years old, and which is experiencing numerous challenges.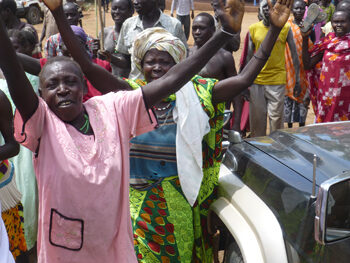 Locals celebrate at the opening of Ofirika Primary Health Centre.
< Back