ABM Archive Website
THIS WEBSITE CONTAINS ARCHIVE MATERIALS FOR HISTORICAL REFERENCE ONLY
For up-to-date information, including our latest appeals, news, and resources, please visit our current website.
South Sudan: Disaster Risk Reduction & Emergency Support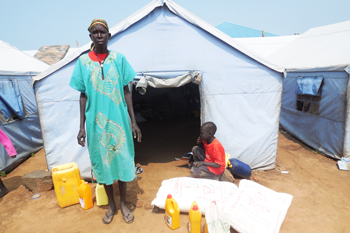 A woman with her relief supplies. © ECSSS 2014
The Primate of the Episcopal Church of South Sudan & Sudan (ECSSS), Archbishop Daniel Deng Bul exclaimed, "The plight of our people who have lost loved ones and many others who continue to live as refugees in their own country saddens my heart… that our people must once again endure the sufferings of war", commenting on the continued civil war in South Sudan.
ABM launched an emergency appeal in 2014 to support ECSSS' humanitarian response to the needs of the 1.5 million people who have fled their homes to seek security, shelter and food in other parts of the country. Many innocent people have died from hunger and disease. Continuing conflict where they live or lack of infrastructure, utilities and food supplies keep people from returning home. In some areas farmers have not returned to their homes in time to plant crops in the rainy season, and these areas will now face food shortages and potentially famine.
Since commencement of this emergency the church has distributed emergency supplies to 72,250 displaced people: 171,000kgs maize flour, 3,500kgs sugar, 52,300kg beans lentils and sorghum, 15,720 litres of cooking oil, and milk, salt and soap.
The church has now moved into a rehabilitation phase to assist people as they return home. They will focus on the following activities: education for children, distribution of seeds and tools to farmers, training of psycho-social counsellors and provision of trauma counselling particularly to traumatised children, peace and reconciliation activities to foster peace between various ethnic groups, and women's income generation training and projects (provided by the Mother's Union).
Please partner with the church to build a stronger future for internally displaced returnees in South Sudan.
SD002EP – Disaster Risk Reduction & Emergency Support needs $55,000 in 2015 (tax-deductible)
HOW TO DONATE
You can make an online donation to this project by selecting South Sudan: Disaster Risk Reduction & Emergency Support from the full project list.
Alternatively, for donations by cheque/money order (made out to the Anglican Board of Mission – Australia), telephone or email, view contact details here. Please don't forget to include the project name and/or code with your payment details.
< Back