ABM Archive Website
THIS WEBSITE CONTAINS ARCHIVE MATERIALS FOR HISTORICAL REFERENCE ONLY
For up-to-date information, including our latest appeals, news, and resources, please visit our current website.
Vanuatu: Disaster Risk Reduction
Natural disasters can have devastating impacts on communities.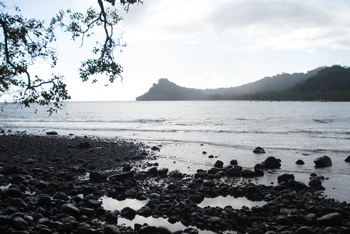 Help protect communities affected by rising water levels and
climate change in Vanuatu. © ABM 2011
Landslides, earthquakes, floods, and tsunamis are some examples of the types of natural occurrences which trigger emergency relief responses – particularly in the Pacific region.
ABM supports the Anglican Church of Melanesia (ACOM) in Vanuatu to prepare communities for emergency situations and to run education campaigns on mitigating the effects of climate change.
According to the Red Cross World Disasters Report, 2011 was the most expensive year of the previous 20 years in terms of disaster costs totalling AUD$350.47 billion in damages.
Climate-caused disasters are often exacerbated by, and can lead to, human conflict. By supporting this project you will assist ACOM in preparing for crisis through safety action plans, safety training with communities and adapting their work or environment to make people safer in instances of a disaster.
VU006EP – Disaster Risk Reduction needs $13,000 in 2015 (tax-deductible)
HOW TO DONATE
You can make an online donation to this project by selecting Vanuatu: Disaster Risk Reduction from the full project list.
Alternatively, for donations by cheque/money order (made out to the Anglican Board of Mission – Australia), telephone or email, view contact details here. Please don't forget to include the project name and/or code with your payment details.
Project Update
June 2015 – Vanuatu Program Officer Jess Sexton told of her recent visit to Vanua Lava in the remote Banks and Torres region. Read more.