ABM Archive Website
THIS WEBSITE CONTAINS ARCHIVE MATERIALS FOR HISTORICAL REFERENCE ONLY
For up-to-date information, including our latest appeals, news, and resources, please visit our current website.
Importance of Disaster Risk Reduction in Vanuatu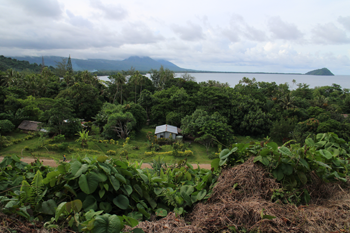 View overlooking Sola on Vanua Lava. ©ABM/Jess Sexton 2015
June 2015 – Vanuatu Program Officer Jess Sexton told of her recent visit to Vanua Lava in the remote Banks and Torres region.
The remote island of Vanua Lava is located in the Banks region of Torba province, around an hours' flight from Luganville. The capital Sola is a relaxed and friendly place, with bamboo huts thatched with palm leaves, standing alongside solid concrete shops and government buildings. It is here that the Diocesan office of Banks and Torres is located, under the leadership of Bishop Worek Patterson.
Upon our arrival, Bishop Worek gave us a tour of the diocesan office and surrounding grounds, which included several VIP toilets installed during the previous phase of the Vanuatu Church Partnership Program. Having seen their effectiveness, the Bishop is committed to extending these toilets throughout the diocese, so that many more people will have access to adequate sanitation. New developments in the VIP design mean that the toilet is now more cost efficient than ever, and moulds will shortly be sent to the diocese to begin construction from scratch.
The Bishop also spoke with pride about the other commitments of the church, including work in Adult Literacy education, Climate Change management, and Disaster Risk reduction. We were introduced to the Literacy Coordinator, Gracetella Smith, who has been working with the Anglican Church of Melanesia for the past 5 years. Gracetella is a highly capable woman, who is dedicated to seeing the vision of 100% literacy rates in Vanuatu.
The importance of planning in Disaster Risk Reduction was brought to the forefront of our minds as Tropical Cyclone Pam descended on the outskirts of Torba province, before hitting the islands of Epi, Malekula, Efate, and Tanna. Rated as a category five cyclone (in a five tiered system), Cyclone Pam caused widespread flooding and destruction throughout Vanuatu, with gale force winds and torrential rain lashing the islands, including Vanua Lava. The normally calm bay on which Sola sits became a brown seething mass, foaming with debris in the strong surges. Fruit trees and village gardens were stripped of their produce, and locals rushed to reinforce their houses with palm branches laid on top of thatched rooves. The ACOM staff moved quickly to evacuate many within Sola after the red alert warning was issued, and the diocesan office became a crowded refuge for nervous families and their belongings.
Evacuation plans such as this are essential in places vulnerable to natural disaster, so communities can act quickly when the need arises. Although Sola was spared substantial damage and there was no loss of life, others in Port Vila and the provinces of Malampa, Shefa and Tafea were not so fortunate. Sixteen people lost their lives, and there was widespread destruction of homes, infrastructure and businesses. ACOM have a renewed commitment to strengthening community awareness and planning, and are working diligently with the new VCPP DRR consultant, Douglas Ngele, and other government agencies.
Jess Sexton with Bishop Worek Patterson.
©ABM/Jess Sexton 2015
Flooding in Sola caused by Cyclone Pam.
©ABM/Jess Sexton 2015
Cyclone damage in Port Vila.
©SOS International 2015
Locals battle the rains in Sola.
©ABM/Jess Sexton 2015
< Back