ABM Archive Website
THIS WEBSITE CONTAINS ARCHIVE MATERIALS FOR HISTORICAL REFERENCE ONLY
For up-to-date information, including our latest appeals, news, and resources, please visit our current website.
Literacy program in Kayemback village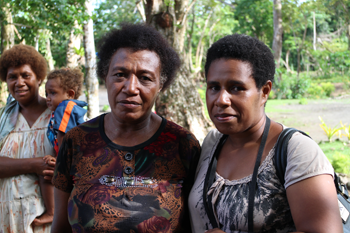 Woka Keith with Rucinta Vora, Vanuatu Church Partnership
Program (VCPP) Development Coordinator.
©ABM/Jess Sexton 2015
June 2015 – Vanuatu Program Officer Jess Sexton recently visited the village of Kayemback where literacy classes are being run.
During a recent ABM trip to Vanua Lava, we had the opportunity to visit a remote community in the island's east. Approximately one hours' boat journey from the capital Sola, Kayemback is a vibrant seaside village with friendly locals and bountiful natural resources. We were given a special welcome by the village chief and elders, accompanied by traditional dancers and musicians, and songs from the local primary school children.
ABM had supported Water and Sanitation projects within the Kayemback community during the previous phase of the Vanuatu Church Partnership Program (VCPP), as well as the establishment of Adult Literacy education. We had come to see the results, which were impressive to say the least.
The Diocese of Banks and Torres Literacy Coordinator, Gracetella Smith, has been working diligently to establish Adult Literacy classes throughout the diocese since 2010. This includes raising awareness of the importance of literacy, and the training of teachers to start classes in their own communities. One of these teachers includes Woka Keith, the wife of Kayemback's chief.
Woka began literacy classes in 2007 with seven children, two of which were her own. As Kayemback did not have a formal primary school at that stage, Woka was determined to provide the opportunity for children to learn to read and write, and so was trained and equipped by a World Vision program. In that time, she has seen great success from her efforts, with most of her former students going on to further education. Of the original seven, one is studying at the Port Vila Institute, one is at the Rural Training College in Port Patterson, two more are at Aret Secondary School in Sola, and her own son is happily employed as a truck driver in New Zealand. As she spoke about their achievements, Woka beamed with pride, obviously delighted to have played a part in their success.
Whilst visiting, we also had the opportunity to meet her current students – three teenagers aged between 15 and 16 years. They spoke of their lives before beginning literacy classes, what has now changed, and what dreams they have for their future. Below are some excerpts from these conversations; (Note: Names have been changed, to protect privacy)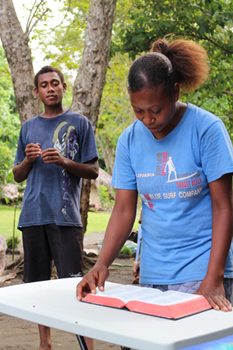 Reading the Bible. ©ABM/Jess Sexton 2015
Senorita:"Before attending Literacy Class, I only stayed home and help mum doing the household chores and it is my dream to be like any other who is able to read the bible in church and write. So when I started at the first place I find it difficult to write and even to read. It took me a while until I am able to read and write. At first my hand-writing was not too good but I really did my best. At the moment I am very happy and proud that I can now read the bible in church. I can even write a short letter to my brother in Vila. And I want to help others who were not able to read or write to be able to read and write like I do. So it's my wish to teach Literacy one day."
Keith: "Before I am not able to neither read nor write anything, I always feel bad. When I go to church I saw the priest in church and I wish to be like one of them one day. Now I have attended Literacy Class, I am now able to say my prayers, read my bible and I wish to become a priest one day. I really love my teacher; she talks louder and teaches me to read English too."
Mary: "Before I came to Literacy class, I don't know anything. I only knew to help my parents back home. When I first attended the class I feel ashamed because my younger brother who went to class 1 can read the alphabets well as I have to struggle to learn to read. Now I am able to read and write but my handwriting is not too good. I am still trying to learn and wish to learn other things as well like Business…"
During our visit to Kayemback, Keith and Senorita performed a public reading of the Bislama Bible. They were quite confident despite the large crowd, and made very few mistakes as they read from various chapters in Hebrews and Isaiah. Woka informed us that when students graduate from Level 4, they receive a Certificate and a Bible of their own.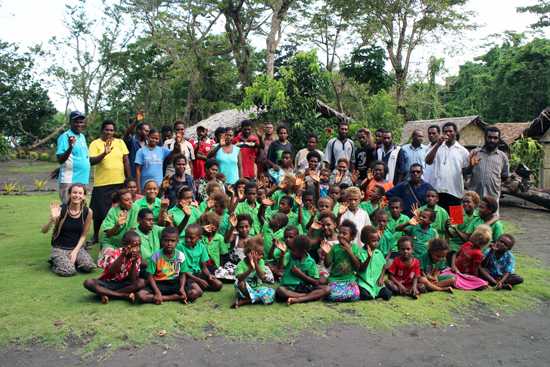 Jess, seated left, with students, teachers and ACOM staff at Kayemback. ©ABM/Jess Sexton 2015
< Back