ABM Archive Website
THIS WEBSITE CONTAINS ARCHIVE MATERIALS FOR HISTORICAL REFERENCE ONLY
For up-to-date information, including our latest appeals, news, and resources, please visit our current website.
Vanuatu: Water, Sanitation & Hygiene (WASH)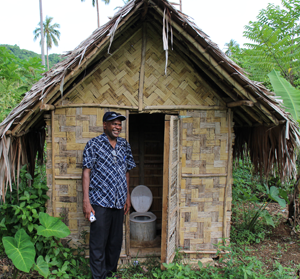 Joses Togase, former WASH coordinator, proudly
shows a recently installed VIP toilet.
© ABM, Jessica Sexton, 2015.
This is part of the Community Development Program: Learn more about ABM's Programs here

When safe water is readily available in communities there are many benefits. Of course, disease decreases and the instances of diarrhoea, particularly among children, reduce.
Girls and women, who previously had to walk long distances for water, can now use that time to study or attend to other matters. These women are also not subjected to long walks through unsafe environments.
Throughout 2016, the Anglican Church of Melanesia will continue to deliver clean water and hygienic toilet facilities to people in rural areas.
For the past five years, this project known as the Water, Sanitation and Hygiene (or WASH) has seen wonderful progress, including 73 VIP (Ventilation Improved Pit) toilets installed, 26 tanks and two wells built or installed as well as repairs made to four further tanks.
However, there is much left to be done. Due to population growth, many traditional water sources have become contaminated through increased farming and human activity. With the onset of the El Nino cycle, parts of Vanuatu are already struggling in the grips of drought. These factors mean that many people in Vanuatu do not have reliable access to safe, clean water.
The Anglican Church of Melanesia works with communities to repair existing water storage systems, such as tanks, and to install new water systems. This includes tanks, wells, and gravity fed water systems.
Through this WASH project, ABM also supports the Anglican Church of Melanesia to install Ventilation Improved Pit toilets (or VIP toilets).
This style of toilet can be built for relatively little money and provides a safe, hygienic facility for people.
In 2016, these toilets will be installed in schools and communities. Staff from the Anglican Church of
Melanesia work with local youth to train them in VIP toilet installation, giving young people a practical skill that they can use to benefit their community.
By donating to the WASH project your money will go to materials for water point and toilet installation, as well as training workshops for youth in how to install VIP toilets.
VU006WS needs $66,000 in 2016 (tax-deductible)
| | |
| --- | --- |
| | This project receives partial funding from the Australian Government. |
HOW TO DONATE
You can make an online donation to this project by selecting Vanuatu: Water, Sanitation & Hygiene (WASH) from the full project list.
Alternatively, for donations by cheque/money order (made out to the Anglican Board of Mission – Australia), telephone or email, view contact details here. Please don't forget to include the project name and/or code with your payment details.
Gifts to ABM will be applied to the support of project(s) selected. In the unlikely event of the project being oversubscribed or not proceeding to completion, donations will be applied to a similar project to the one(s) selected.
PROJECT UPDATE
September 2016 – Two ABM staff members, Pacific Programs Officer Kate Winney and Pacific Programs Coordinator Paul Davenport, recently visited our partner in Vanuatu. Read more.

WASH article
Jacob Landsmeer, a Student Journalist, recently wrote an article about the WASH Program in Vanuatu. It gives an interesting overview of the challenges and issues faced by local communities there, particularly in the aftermath of Cyclone Pam, but also highlights the importance of ABM's work with the Church. View the article here: Barely a Drop to Drink: Vanuatu's Problem with Water Sanitation.
Not a Drop to Drink
A documentary about ABM's water projects in Vanuatu.
< Back