ABM Archive Website
THIS WEBSITE CONTAINS ARCHIVE MATERIALS FOR HISTORICAL REFERENCE ONLY
For up-to-date information, including our latest appeals, news, and resources, please visit our current website.
Vanuatu:Language, Literacy and Numeracy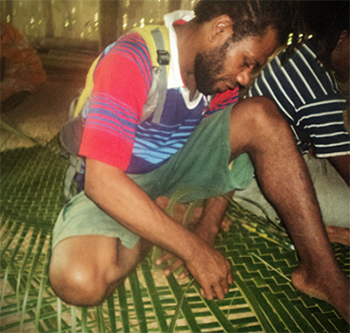 Ray Rayman makes a palm leaf mat for his Literacy class.
© Kate Winney/ABM 2016.
This is part of the Community Development Program: Learn more about ABM's Programs here
Ray Rayman is 27 years old and lives in Wasaga, West Vanuatu Lava, in the Torba Province of Vanuatu. Ray grew up in this small village, and had no formal education when he was young. All Ray was taught by his elders was how to farm his land to earn his living. In 2010, a Literacy program was established in his community. After listening to the first 'Literacy Awareness' session given by the Anglican Church of Melanesia, ABM's partner in Vanuatu, he made up his mind to attend the new literacy class.
The class began later that year, and Ray was one of the most committed students during this time. Some of his friends quit, but he continued and experienced many changes. He gained confidence, and became a valuable person in the community, where literacy is rare. Ray began to read words, sentences and finally paragraphs written in his native language, Bislama. He then began to learn numeracy, exploring numbers and simple equations. In 2013, he attended a private training centre where he learned basic carpentry skills, and afterwards was employed by a local construction company on his home island.
In November 2015, when Ray was asked to share his experience, he responded with a happy and joyful expression. He told how his life was changed through the Literacy program, allowing him to earn a good income. Yet he was still concerned for his friends and families back in his own village. They were still struggling with illiteracy, and limited in their opportunities as a result. As Ray was now a leader in the community, appointed by the elders due to his new capabilities, he wanted to ensure others had the opportunities given to him through the Literacy Program. Ray asked to be trained as a literacy teacher, so he could pass on these valuable skills.
In February 2016, Ray was able to receive this training, and he began teaching the program in Wasaga, West Vanua Lava, as of April 2016. As a young person himself, he encourages all the youth to attend the Literacy program, and assures them that they will experience many positive changes if they persist. Ray expressed deep gratitude, because he was educated through the Literacy program and is now able to teach the same program to others. If he had not joined the program, he would never have experienced this change, and would not be able to help his community.
Your support of the Language, Literacy and Numeracy program allows volunteer teachers from within the local community to be trained in the skill of basic literacy education and equipped with materials such as pens, exercise books and blackboards in order to hold weekly classes with local students.
Generous support of this program will change lives, as Ray has experienced, in Vanuatu.
VU006EA needs $37,000 in 2017 (tax-deductible)
HOW TO DONATE
You can make an online donation to this project.

Alternatively, for donations by cheque/money order (made out to the Anglican Board of Mission – Australia), telephone or email, view contact details here. Please don't forget to include the project name and/or code with your payment details.
Gifts to ABM will be applied to the support of project(s) selected. In the unlikely event of the project being oversubscribed or not proceeding to completion, donations will be applied to a similar project to the one(s) selected.
PROGRAM UPDATE
July 2017 – The joy and struggles of Job. This is the story of one inspirational man, tirelessly working to teach others the vital skill of literacy. He is part of a growing network of adult literacy teachers throughout Vanuatu, supported by the Anglican Church of Vanuatu and ABM. Read more.
< Back