ABM Archive Website
THIS WEBSITE CONTAINS ARCHIVE MATERIALS FOR HISTORICAL REFERENCE ONLY
For up-to-date information, including our latest appeals, news, and resources, please visit our current website.
Churches can achieve more in working together to reach and meet community needs
(Published in Vila Times on Monday August 17th, 2015)
The total reach in numbers by the Vanuatu Church Program (VCPP) in the last project year (i.e. from the period July 2014 to June 2016) is estimated at 19,560 primary beneficiaries with about 42,199 secondary beneficiaries.
Of this total figure 8,571 primary beneficiaries were reached during the last six months period (January-June 2015) with an estimated 34,064 secondary beneficiaries in this last six months period.
80% of the total VCPP beneficiaries reached are in the rural areas of Vanuatu. 66% of the primary beneficiaries reached are women and young people (youth boys and girls) and of the total primary beneficiaries, 11 were people living with disability (PLWD).
The primary beneficiaries were reached by VCPP through the church partnership projects whereby the churches in Vanuatu are working together to implement in Vanuatu communities.
In the last six months the project activities included health outreach activities across provinces including the remote Torba Province, such as Dental Outreach x 5; Eye Outreach x 4; NCD Awareness Outreach x 5; School Health Visits x 1 and 6 staff trained on the job. Four communities on Paama are now with access to safe drinking water and improved latrines, partner church personnel trained and skilled in building water tanks and improved latrines and community members trained in disaster risk reduction (DRR) management and equipped with Participatory Health and Sanitation Transformation (PHAST) skills.
Forty (untrained) principals and school heads, of which 14 were females, were trained by the Pacific Theological College (PTC) experts in school management skills. Block-2 training course of the same cohort of teachers (School heads/Principals) will take place in August school holidays and graduation of these teachers, in 'School Management' certificate, is expected to take place in December 2015.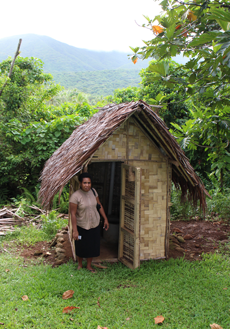 Rucinta Vora, VCPP Development
Coordinator, and a VIP toilet.
©ABM/Jess Sexton 2015
In literacy there were 173 new Learners in the last 6 months and five literacy classes were established in Sanma and running sustainably. Also 17 volunteer Literacy trainers were trained in Sanma.
In consultations and advice received from the Vanuatu Government NDMO, negotiations were completed with local authorities within the Penama Provincial Government and community leaders with over 184 people reached in DRR consultations and agreements gained followed by establishment of 7 project communities to participate in the church partnership pilot DRR project, which is led by the Vanuatu Christian Council (VCC).
The five projects implemented by the church partnership group include in the health sector, the Eye/Dental health and NCD Awareness project led by the Presbyterian Church (PCV) and the W.A.S.H. (Water and Sanitation) project which is led by the SDA Church through ADRA Vanuatu. In the education sector, the library and teacher training program also led by PCV and Adult Literacy & Numeracy project led by the Anglican Church (ACOMV) and DRR Project is led by VCC.
These documented achievements of the Vanuatu Church Partnership Program (VCPP) which is funded by the Australian Government (Australian Aid), is evidence that churches are capable of achieving much more together to help their communities, when they are working together as partners in development work.
< Back