ABM Archive Website
THIS WEBSITE CONTAINS ARCHIVE MATERIALS FOR HISTORICAL REFERENCE ONLY
For up-to-date information, including our latest appeals, news, and resources, please visit our current website.
Stories of Change from People reached by VCPP
(Published in Vila Times on Monday August 10th, 2015)
The two following stories are shared by people that were reached by the Vanuatu Church Partnership Project.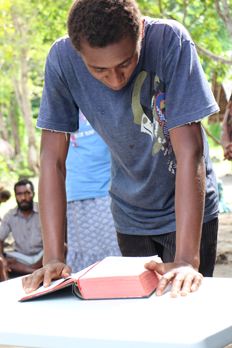 A literacy student reads the Bible.
©ABM/Jess Sexton 2015
The first story is from the ACOM-led Literacy project. Robinson's story was a story of change in his life as a consequence of his involvement in the church partnership Literacy project led by the Anglican Church of Melanesia (ACOM) in Vanuatu. Robinson T. is 38 years old of Lotheken village in East Santo, Sanma Province.
He told his story as follows:
"I really appreciate this program. I was chosen leader of our community but the problem I have was that I never went to school and I am so unfortunate to read and write. When I got married, my wife also is illiterate and we really had difficulty in supporting our children in their education which results that our son could not continue any further. Until February this year when the literacy class begin in our community and we (my wife, my son and I) all went to the Literacy school. It's not easy as I thought but I love it. I never dreamed of going to school in life. This will be a great change for my family as we continue in Literacy class. I will be able to carry out my duties effectively as I continue with Literacy." (Translated from Bislama by Literacy Coordinator).
The second story is from the PVC-led Eye/Dental Health project. Mark is a builder and currently volunteering to work to complete a church hall at the Paton Memorial church (PMC). Mark had his eyes checked, given glasses and on another time, came for a dental check and had 2 extractions done on his teeth. Mark Robert is 59 years old of Makira, Shefa Province and he told his story as follows:
"Firstly thank you for the opportunity to speak. I want to say thank you for what is happening at the PCV clinic in Port Vila. I feel so good with my teeth now after having pain for sometimes. The service is good giving another place to have my teeth examine. Thank you too for the glasses that I have been given after my current ones was broken, so it is good to have another one. Thank you again for the service provided. I had pain for sometimes with my teeth for a month until it was removed. Every time I go to the hospital, the line is too long to get treatment. Here has given me another avenue to have treatment. Thanks you so much." (Translated from Bislama by Literacy Coordinator).
The Vanuatu Church Partnership Program (VCPP) is a project implemented in partnership with member churches of the Vanuatu Christian Council (VCC), the umbrella organisation for Christian Churches in Vanuatu to support member churches to serve their church communities through development work.
The VCPP Partnership Council is chaired by the Vanuatu Christian Council (VCC) Secretary General.
VCPP is funded by the Australian Government.
< Back