ABM Archive Website
THIS WEBSITE CONTAINS ARCHIVE MATERIALS FOR HISTORICAL REFERENCE ONLY
For up-to-date information, including our latest appeals, news, and resources, please visit our current website.
Vanuatu: Disaster Risk Reduction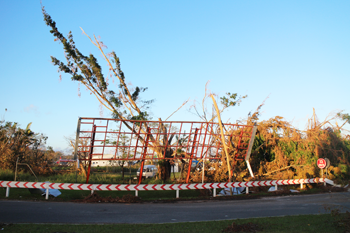 Destruction in Vanuatu after Cyclone Pam in March 2015.

© Jessica Sexton/ABM, 2015.
This is part of the Community Development Program: Learn more about ABM's Programs here

Along with the other countries of Melanesia, Vanuatu has experienced an increase in both the frequency and severity of natural disasters. According to the United Nations Office for the Coordination of Humanitarian Affairs (OCHA), the two most recent cyclone seasons were the most active on record, with over 306,000 people affected and $77 million in damage across the region.
These trends are set to continue as the El Nino cycle takes full hold. Wild weather, landslides, floods and droughts will cause many challenges for those living in these island nations, stretching both human and material resources to their limit.
However, the severity of the impact can be mitigated depending on the planning and preparation of organisations, governments, churches and communities. The choices made about how and where food is grown, where houses and buildings are placed, what sanitation and water facilities are available, and how education is delivered will all contribute towards how quickly people can recover from a natural disaster event.
ABM supports the Anglican Church of Melanesia (ACOM) in Vanuatu in their Disaster Risk Reduction work, helping to prepare communities for emergency situations and to run education campaigns on mitigating the effects of climate change disasters.
This program is run in conjunction with the Vanuatu Church Council and their partner, Act for Peace. Together with the other member churches, ACOM participates in joint training sessions for Disaster Risk Management and Response and has opportunity to both share and learn from the experiences of others, helping to strengthen this work nation-wide.
By supporting this project you will assist ACOM in preparing for crisis through safety action plans, safety training with communities and adapting their work or environment to make people safer in instances of a disaster.
VU006EP needs $12,000 in 2016 (tax-deductible)
HOW TO DONATE
You can make an online donation to this project.

Alternatively, for donations by cheque/money order (made out to the Anglican Board of Mission – Australia), telephone or email, view contact details here. Please don't forget to include the project name and/or code with your payment details.
Gifts to ABM will be applied to the support of project(s) selected. In the unlikely event of the project being oversubscribed or not proceeding to completion, donations will be applied to a similar project to the one(s) selected.
Project Updates
March 2016 – Chris Piper, Disaster Risk Management consultant to ACOM Vanuatu. Read more.
February 2016 – Disaster Risk Management workshop is conducted in the Lorevuilko Rural Training Centre. Read more.
June 2015 – Vanuatu Program Officer Jess Sexton told of her visit to Vanua Lava in the remote Banks and Torres region. Read more.
< Back