ABM Archive Website
THIS WEBSITE CONTAINS ARCHIVE MATERIALS FOR HISTORICAL REFERENCE ONLY
For up-to-date information, including our latest appeals, news, and resources, please visit our current website.
DISASTER RISK MANAGEMENT IN LOREVUILKO
February 2016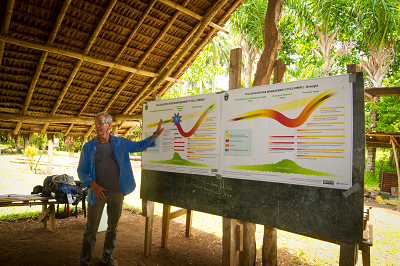 DRM consultant Chris Piper at the Disaster Risk Management workshop
Following on from the experience of Tropical Cyclone Pam in March 2015, and the subsequent El Nino drought, a community-level Disaster Risk Management (DRM) workshop was recently held in Lorevuilko.
Lorevuilko is home to one of five Rural Training Centres belonging to ABM's partner, the Anglican Church of Melanesia (ACOM), which are spread throughout the northern provinces of Sanma, Penama and Torba.
Rural Training Centres (RTC) are in essence technical colleges, where practical skills are provided to young men and women aged from 16-30. Lorevuilko RTC has around 80 students, and is situated in a mainly Anglican community, many members of which emigrated from Torba Province (further north) to work in the local coconut plantations one or two generations back. The community includes a primary school, church, health clinic and small market centre.
Whilst much of Sanma escaped the worst of Tropical Cyclone (TC) Pam, which devastated the eastern and southern parts of the country in March 2015, the Lorevuilko community has suffered badly from the effects of the El Nino induced drought since the second half of 2015. The water situation had, for example, deteriorated so much, that the normal sources of community water from rain-harvesting and tanks had dried up, with the result that community members were required to forage 3-5 kms away from the village to access this vital life-giving resource.
Workshop Objectives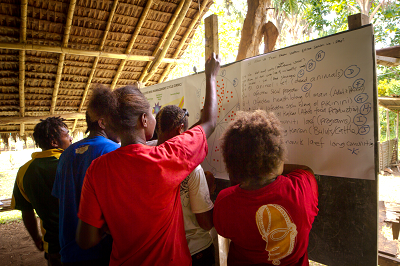 Workshop participants rank the threats from El Nino drought
The purpose of the workshop was to teach some Disaster Risk Management (DRM) skills; and then begin a process of working with the community to identify both the causes of the challenges being experienced, as well as some practical solutions.
This was done through the use of the Ten Seed Technique (TST) involving ranking the identified challenges, resulting primarily from the current drought.
These challenges were coalesced into three key categories, namely:
1. Not enough clean water, this creating health problems
2. Adverse effect on agriculture, and not enough food
3. Adverse effect on school and community programs
The practical solutions identified during the workshop can be summarised as follows:
Building more wells and tanks
Seeking assistance from urban/rural water supplies
Build fences around gardens
Cattle owners to fix fences
Adaptation of farming systems that can better cope/adapt to extreme weather conditions – eg agroforestry
Move gardens to areas which are more fertile
From these measures mentioned it can be seen:
That the community can tackle a number of these initiatives themselves
That the community may require assistance in implementing other initiatives
The Anglican Church of Melanesia will now continue to work with the Lorevuilko RTC to ensure that the following stages of this DRM process are implemented, and that the college is supported with materials and technical input for this vital work.
(This summary is based on a report provided by ACOM consultant, Chris Piper)