ABM Archive Website
THIS WEBSITE CONTAINS ARCHIVE MATERIALS FOR HISTORICAL REFERENCE ONLY
For up-to-date information, including our latest appeals, news, and resources, please visit our current website.
Vanuatu: Disaster Risk Reduction Update
Chris Piper, DRM consultant to ACOM Vanuatu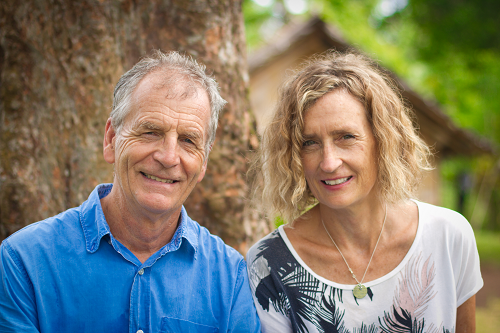 Chris Piper and his wife Marilyn, in Luganville
March 2016
ABM's partner in Vanuatu, the Anglican Church of Melanesia (ACOM) recently hosted an Australian Disaster Risk Management expert, Christopher Piper.
Chris was appointed to advise on various aspects of ACOM disaster management and preparedness, as part of the ongoing recovery efforts from Cyclone Pam and the El Nino drought, which continues to affect large parts of the Pacific.
Chris has worked in the field of community development for over 35 years, specialising in the area of Disaster Relief, Recovery and Risk Management (DRM). Chris is the founder and Managing Director of 'TorqAid', an agency which delivers education and consultation services relating to the humanitarian and development sectors.
Chris was engaged by both Anglican Board of Mission and Anglican Overseas Aid for short-term work with ACOM, his main task to provide staff mentoring and to plan with them a program of DRM workshops. These community-level workshops are to be delivered by ACOM in key areas in the Sanma, Penama and Torba provinces of Vanautu, with the purpose of working with the community to identify both the causes of the present natural disasters, as well as to assist communities to develop some practical solutions.
The first of these workshops was conducted in February 2016, at the Rural Training College in Lorevuilko. To read a summary of this workshop, click here.