ABM Archive Website
THIS WEBSITE CONTAINS ARCHIVE MATERIALS FOR HISTORICAL REFERENCE ONLY
For up-to-date information, including our latest appeals, news, and resources, please visit our current website.
Vanuatu: Disaster Risk Reduction Update
SEPTEMBER 2017
An interview with Fisher Young Dinh
ABM Project Marketing officer, Jess Melas, had the opportunity to interview the new Disaster Risk Reduction coordinator for the Anglican Church of Melanesia in Vanuatu (ACOMV). Fisher Young Dinh comes to the position with solid experience in the field, along with a passion to see communities all over Vanuatu benefit from Disaster Risk reduction training and Climate Change awareness.
Can you tell us a little about your background, and where you came from?
I grew up in northern Vanuatu, on the island of Vanua Lava. Our family lived near the main town of Sola, and my father was an Anglican priest there. When I finished school, he encouraged me to join the Melanesian brotherhood, in the hope that I would enter the clergy.
Although I wasn't overly enthusiastic, I did join, and transitioned through the stages from novice to brother. This was my experience for 8 years, living a very simple life. In retrospect, it was a wonderful foundation for my faith, and gave me strong skills in teaching and a passion for empowering members of the local community.
What was your working experience before joining ACOMV?
After completing several certificate courses in computer hardware & networking, I began working for the Red Cross in the Torba provincial branch office, located in my home town of Sola. I was here for 2 years, from 2012.
My main task was to supervise the Disaster Risk Reduction program, which involved a lot of community training. When I first began, the teaching was entirely new to people. They had been facing disasters for many years, and used traditional coping mechanisms to survive and rebuild. But they had no idea what caused the disasters, or how they could better prepare to endure and recover more quickly, with less devastation to their resources.
This new knowledge caused a big change in the way that people acted, and I was really pleased with the progress.
In 2014, I took a new job with the National Disaster Management Office (NDMO), also in Sola. My position was the Provincial Disaster and Climate Change Officer, and I worked on a project funded by the World Bank. This involved higher-level coordination of Disaster Preparedness and Emergency Response programs, ensuring that all the organisations involved in this were not doubling up on their efforts, but working efficiently alongside each other. We didn't want some communities to get multiple trainings or emergency supplies, and others to get none!
After three years working with the NDMO, I took the job with ACOMV in Luganville, Espiritu Santo.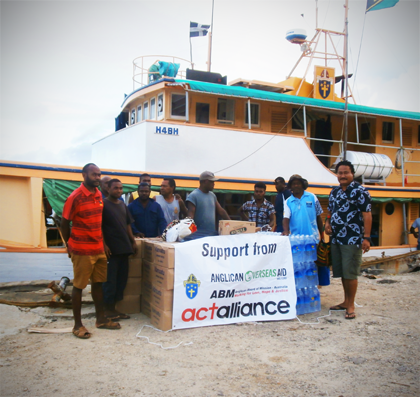 Cyclone Donna relief team stand in front of the Southern Cross, prior
to departure. © ACOM 2017, used with permission.

What have you enjoyed most about your position with ACOMV so far?
When Cyclone Donna hit earlier this year, I was attending a Church Agencies Network Disaster Operations (CAN DO) meeting in Port Vila. Because of my previous experience, I was easily able to connect with the NDMO Operations Centre, and work to organise a coordinated response. The ACOMV Deputy General Secretary and other church partners were also present for the CAN DO meeting, so we were able to organise a very quick response, and ended up being the first to deliver food relief supplies to affected communities in the northern province.
What has been your greatest challenge so far?
Funding is always an issue – just making sure we have enough to accomplish our objectives. We recently had a Disaster Risk Reduction Strategic Planning meeting, which ABM attended. From here we developed a draft plan, which has four main objectives;
RESILIENCE
ACOMV will promote and ensure strengthened resilience and adaptive capacity in communities.
RESPONSE AND COORDINATION
ACOMV will actively coordinate with government and other agencies to enhance community resilience and response efforts.
CAPACITY
ACOMV will effectively participate and influence change by empowering and enhancing the community and church knowledge and capacity on DRR and Climate Change through ACOM's structure.
INCLUSIVE
ACOMV will ensure gender and people with special needs inclusion on DRR and climate change initiatives, programs, activities and policies.
Stemming from these objectives, we have an ambitious plan of action, which we can achieve with the right amount of funding!
What is your personal vision for your role? What would you most like to see achieved?
There is so much power in the network of the churches in Vanuatu. In particular, the Anglican Church of Melanesia has unrivalled reach into the communities of the northern province, with long-standing relationships with almost all remote communities scattered throughout these islands. I would love to see this valuable network appreciated by the national government, who could then work to empower ACOMV to deliver Disaster Risk Reduction and Response programs.
I am also working hard to establish sustainable Disaster and Climate Change Committees within our communities, so that these local volunteers can continue to provide training, information and support to their areas, and effectively coordinate emergency relief work when disaster strikes.