ABM Archive Website
THIS WEBSITE CONTAINS ARCHIVE MATERIALS FOR HISTORICAL REFERENCE ONLY
For up-to-date information, including our latest appeals, news, and resources, please visit our current website.
Vanuatu:Language, Literacy and Numeracy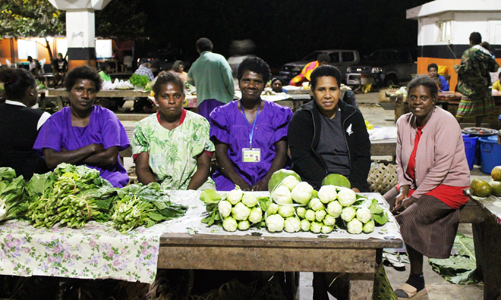 Literacy students from Amnos in Santo who travel to Luganville markets fortnightly to
sell produce. Teacher Hilda is on the right. © Kate Winney/ABM, 2017.

This year we aim to support 30 Language, Literacy and Numeracy classes serving 200 people in largely remote communities.
ABM works with the Anglican Church of Melanesia to provide classes in Language, Literacy and Numeracy for people in Vanuatu, particularly in remote rural areas. The teachers all work as volunteers, and are typically motivated by a strong sense of compassion and social justice.
Hilda is one of the volunteer teachers. Alongside raising two children, she was trained as an Adult Literacy volunteer in 2015 and has started two classes for the Amnos and Lotoken communities in rural Espiritu Santo. As most people are busy in the gardens during the week, the classes run on a Saturday and Sunday in Hilda's home. Most of the learners have had no previous schooling, and walk 30 minutes each way to class twice a week either on a Saturday or Sunday. The adults are learning basic numeracy, literacy and life skills such as hygiene and cooking.
Hilda says, "I see a lack of education so I give my heart. It is hard but when I see improved skills it encourages me. My students take the classes very seriously and it helps them here at the market in changing the money. We also learn about hygiene during the classes, and I have visited their homes which they now keep clean and tidy. It has also changed how we cooperate with each other – in our communities we didn't really talk, but now we talk and share.
"I've seen how my students are much more confident, especially in praying out loud. We are running short of tables and chairs in my house to run the classes, and it is challenging not receiving much support. But the Spirit of God keeps me going, and I work towards my goal to put them at the top of the reading levels."
Hilda also supports her learners in travelling to the Luganville Market once a fortnight to sell their produce such pawpaw, cabbage, coconut, taro and tomatoes. The bus ride is 1.5 hours and the learners sleep at the market for two evenings until their produce is sold. Hilda assists the learners at the market with practical financial literacy training in pricing and dealing with customers. The learners expressed that now they are learning how to give correct change, and also how to choose a good price for the food. There are another 2,500 women involved in either growing or selling produce at the Luganville Market, and the majority are illiterate. ACOM plans to conduct awareness about literacy for the Market Association, and run a teachers training so that additional classes can be setup.
This year, ABM wants to provide more support to volunteer teachers like Hilda. By linking the literacy classes to a Community Learning Centre, Hilda can receive funds to build an oven, or purchase a sewing machine, which has a twofold purpose of creating an income for the volunteer teacher and further developing learners' life skills in sewing, baking or carpentry.
VU006EA needs $48,622 in 2019 (tax-deductible)
Stationary, workbooks and a blackboard for one literacy class of up to 15 people cost $90.
A three day teacher training workshop typically costs $104 per teacher.
HOW TO DONATE
You can make an online donation to this project.

Alternatively, for donations by cheque/money order (made out to the Anglican Board of Mission – Australia), telephone or email, view contact details here. Please don't forget to include the project name and/or code with your payment details.
Gifts to ABM will be applied to the support of project(s) selected. In the unlikely event of the project being oversubscribed or not proceeding to completion, donations will be applied to a similar project to the one(s) selected.
< Back