ABM Archive Website
THIS WEBSITE CONTAINS ARCHIVE MATERIALS FOR HISTORICAL REFERENCE ONLY
For up-to-date information, including our latest appeals, news, and resources, please visit our current website.
Experiencing Cyclone Pam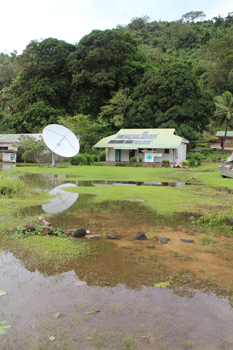 Flooding in Sola. © ABM/Jess Sexton 2015
In early March, ABM Program Officer Jess Sexton travelled to the Torba Province on a monitoring visit. She was accompanied by staff from the Anglican Church of Melanesia, including the Deputy General Secretary, Joses Togase, and the new VCPP Coordinator, Rucinta Vora.
I spent the majority of my visit to Vanuatu on the northern island of Vanua Lava, which is in the Banks and Torres Diocese of the Anglican Church of Melanesia. The main town of Sola is the capital, and also the location of the diocesan office.
We were warmly received by Bishop Worek Patterson, who was eager to discuss both the progress and the challenges relating to the church and the wider province. We were to spend 5 days viewing these for ourselves, with a particular focus on the work relating to Water, Sanitation and Adult Literacy. These programs had been funded by ABM and the Australian government, and implemented through the Vanuatu Church Partnership Program (VCPP).
Several days into our visit, we began receiving reports of a cyclone developing further north, to the east of the Solomon Islands. It was heading towards Vanuatu, and although the system had not yet developed into a category 5 cyclone, the region was put on red alert. Locals rushed to reinforce their houses with sand bags and large palm leaves, and purchase extra supplies from shops.
As the winds became gale force and heavy seas threatened to break the banks around the town of Sola, vulnerable areas were evacuated to higher ground and cement buildings, such as the ACOMV Banks and Torres Diocesan office. The Provincial government drove through the town making announcements in Bislama, the language most commonly spoken in Vanua Lava, to warn about various dangers and to guide people in their preparations. Text messages sent from the Vanuatu Bureau of Meteorology also kept us updated as to the cyclones' present course, which was an essential service in an area with limited electricity and internet access.
For several days strong winds and torrential rain lashed the town, as the cyclone moved south at a painfully slow pace of 7 km/h. As these effects subsided, we emerged from our bungalows to survey the damage, unsure of what we would find. Thankfully, there was very little destruction. Minor flooding had occurred in some areas, and there were roof repairs needed on several buildings, but infrastructure such as roads and bridges remained intact, and no buildings had collapsed. The area causing most concern amongst locals was the partial loss of produce from village gardens and fruit trees, as these are heavily depended upon for food.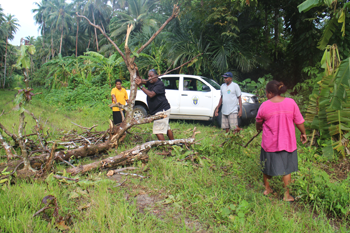 ACOM staff clearing a road. © ABM/Jess Sexton 2015
The cyclone had evidently affected the communications towers further south, causing a communication black out that was to last 7 days. Without the means for accessing funds, and with food stocks running low, local shops were asked to supply goods on credit to the communities both in and around Sola. Radio communication revealed the cyclone was headed directly south, so people were preparing themselves for a potentially long wait on further supplies to be shipped from Luganville and Port Vila.
Clean water was also a cause of concern, as most depend on fresh streams running from the mountains behind the town, and few have tanks. During the downpour, these streams became polluted with sediment and debris, and were unsuitable for drinking and washing. Several tanks funded by DFAT and ABM, installed through the Vanuatu Church Partnership Program in Sola, become essential in times like these.
Getting home was a great concern for my ACOM colleagues, as they were anxious to see that family and friends were safe in Espiritu Santo, Efate, and the other islands. Every day we would pray for their safety, pray for the communication towers to be fixed, and pray for the plane to come.
It was a great relief when a radio report announced that Espiritu Santo had been spared significant damage, as this was island home of my travelling companions, and the location of the diocesan office of Vanuatu and New Caledonia. This was mixed with sadness, however, as the destruction in Port Vila was also revealed, We heard that many buildings had been destroyed beyond repair, leaving 10,000 people homeless, and that 8 people had lost their lives in the chaos. There was no further information about the outer islands or even about the rest of Efate, due to the communications difficulties.
Travelling from Sola to Port Vila is a journey I will never forget. The lush tropical forests that covered the islands of Vanua Lava, Gaua and Espiritu Santo stood in stark contrast to the brown wasteland on islands further south. As we flew over Malakula, Epi, Emae and Efate, we saw the trees had been stripped of their leaves and vines, houses and possessions had been scattered across the bare fields, and smoke was steadily rising from the debris being burnt away. It was like a scene of war, the destruction seemed so complete. I prayed that humanitarian relief would flow quickly, and that these communities would receive the care that they so obviously needed.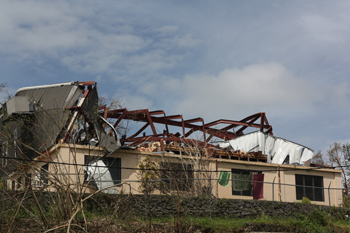 Cyclone damage in Port Vila. © International SOS 2015
We arrived in Port Vila at dusk, and saw the city in disarray. Everywhere we looked, trees were blown over, buildings were damaged and crumbling, and boats were mashed together in the wharves. People were hard at work to clear roads and make repairs, even as darkness fell. Electricity had been cut off to much of the city, and many carried torches or lit fires for light. However, the mobile network was fully functional, and much to my delight I was able to contact ABM and my family, letting them know that I was safe and had arrived in Port Vila. It was then that I discovered the lengths ABM had gone to in arranging my safe return to Australia. A team from SOS International had been enlisted to evacuate me from Sola, on a chartered flight scheduled for the following day. When we finally met up that evening, they were relieved to see me safe and well, and grateful to the Red Cross for their assistance in getting me back. They quickly booked a flight to Sydney for the following morning, and by lunchtime I had arrived back to a much relieved fiancé.
I am so grateful to everyone who assisted me during my time in Vanuatu, from ACOM staff and the community in Sola, to the Red Cross, SOS International, and most importantly to ABM and Julianne Stewart. I was overwhelmed by the care and support that was going on in the background, and feel privileged to work for such an incredible organisation.
The humanitarian work in Vanuatu is only just beginning, however, and there is so much to be done. Please support this in whatever way you can, whether financial or in prayer, to ensure that those who have lost everything can have hope for their future.
Jess Sexton
Vanuatu Program Officer
March 2015
October 2015 – Thank you to everyone who donated to the Vanuatu Cyclone Emergency Appeal. This appeal is now closed and ABM continues to work closely with ACOM in the rehabilitation phase.
< Back