ABM Archive Website
THIS WEBSITE CONTAINS ARCHIVE MATERIALS FOR HISTORICAL REFERENCE ONLY
For up-to-date information, including our latest appeals, news, and resources, please visit our current website.
Vanuatu: Water, Sanitation & Hygiene (WASH)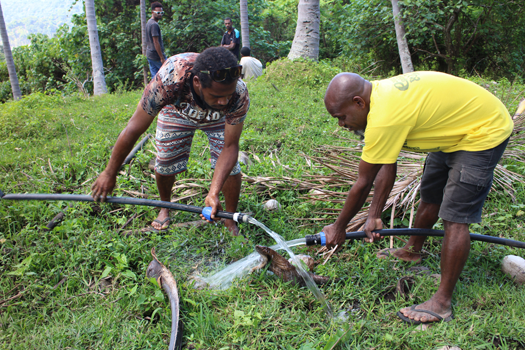 Gino, an ACOM-V WASH volunteer, and Steven, the Nawelala Community WASH focal person,
repair a leak in the water system in Big Bay Bush, Santo. © Kate Winney/ABM, 2018.

This year we aim to build 10 community water tanks, provide hygiene training to 1,070 people in 13 communities, and support construction of toilets and bathrooms in 50 households. This will lead to a reduction in water-borne disease amongst both children and adults.
Working with our partner, the Anglican Church of Melanesia (ACOM), ABM's Integrated WASH project aims to affect lifelong behaviour changes in sanitation and hygiene in 13 rural communities in Vanuatu this year. This will make a major contribution to reducing diarrhoea-related illnesses. The project will also build 10 community water tanks and construct latrines and simple bathrooms for 50 households who have at least one member who has a disability or is elderly. These latrines and bathrooms will serve as models for community members to then replicate.
In addition to this, the communities will also be trained in how to minimise the impact of common disasters such as cyclones and flooding, as well as raise people's awareness about children's rights, disability inclusion, gender-based violence, environmental protection and climate change action. It does this through a training of trainers model, where key people in each community are trained, and they in turn provide training for their broader communities. During the trainings people are also taught about growing and preparing traditional foods which are ideally suited to the Vanuatu environment.
Because community committees do this training on a volunteer basis, they will be motivated by organising themselves into Savings and Loans groups in order to stimulate savings in the community, and increase people's access to small loans.
ABM has been supporting ACOM to provide the Integrated Water and Sanitation project for almost 10 years, and during that time many people in numerous villages have benefited. This is one elderly widow's story of how she felt after ACOM WASH volunteers installed a water tank in her village:
"I got married to this community when I was just a young girl. Life was very difficult without water. I need water to do cooking and washing. The only Vanuatu water source I was told to access is the coastal spring water and that can only be accessed during low tide. At whatever time of the day or night is low tide, all of us in the community with buckets will have to go and collect water. If I missed out, I will not be able to do any cooking."
"Now my husband is dead, I am left in the community as a grandmother and this is a dream that I dreamt of 35 years ago. I was more than happy to access water at my door steps.
"When the boys turn on the first tap, tears were running down my face thinking of our husbands who have died that they would have celebrated the achievement together with us. May I take the opportunity to thank the church for its support? I am very happy Indeed."
VU006WS needs $26,366 in 2019 (tax-deductible)
A 5000L water tank which provides water for up to 200 people costs $2,000.
A household latrine costs $380.
A two day technical training workshop for Community Water Committee members cost $200 per person.
Designing and printing a Water, Sanitation and Hygiene Information Kit for distribution to households costs $30 per kit.
| | |
| --- | --- |
| | This project receives partial funding from the Australian Government. |
HOW TO DONATE
You can make an online donation to this project.

Alternatively, for donations by cheque/money order (made out to the Anglican Board of Mission – Australia), telephone or email, view contact details here. Please don't forget to include the project name and/or code with your payment details.
Gifts to ABM will be applied to the support of project(s) selected. In the unlikely event of the project being oversubscribed or not proceeding to completion, donations will be applied to a similar project to the one(s) selected.
Project Updates
May 2019 – ABM's Terry Russell recently visited the Water, Sanitation and Hygiene projects being carried out on Maewo Island by our partner, the Anglican Church of Melanesia (ACOM). This project is funded by ABM and Australian Aid, and is made possible by the very active participation of local communities. Maewo is one of many islands in Vanuatu that are participating in and benefitting from this project. Read more
Not a Drop to Drink
A video about ABM's water projects in Vanuatu.
< Back