ABM Archive Website
THIS WEBSITE CONTAINS ARCHIVE MATERIALS FOR HISTORICAL REFERENCE ONLY
For up-to-date information, including our latest appeals, news, and resources, please visit our current website.
Zambia:Gender and Governance Initiative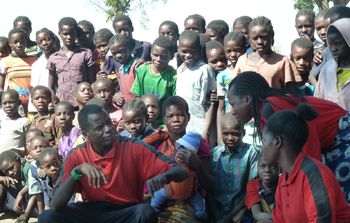 Gender Action Group conducting community dramas about
child marriage. © ABM/Lina Magallanes, 2013.
Through the Gender and Governance Initiative the Zambian Anglican Council (ZAC) is addressing harmful cultural practices that significantly impact on Zambian women and children. The Initiative has two core focuses: raising awareness about both gender-based violence and gender equity issues.
Gender-based violence (physical, sexual and emotional) is tolerated in many communities in Zambia. The 2007 Zambian Demographic Health Survey showed that of those surveyed, 46% (5,325) of women 15-49 years of age have experienced some form of physical violence in their life. One in five Zambian women reported that they have experienced violence in the form of sexual abuse. Negative cultural practices in the form of gender inequality in Zambia takes such forms as: no access to birth and death registration, no women's rights to land and inheritance, limited involvement in household and community decision-making, limited access to leadership roles (local and government), early child marriages, and limited education of girls.
ABM has been supporting this Gender and Governance Initiative for three years in a number of areas of Zambia. This year we will focus on one of the poorest areas, the large Lui River valley area in Senanga region of western Zambia. The Lui River Gender Action Group volunteers have been trained by ZAC over the last two years in how to positively address the negative cultural practice through indigenous songs, dance, story-telling, drama and discussion groups, and they will continue this awareness raising work in new villages this year.
The Gender Action Group need an income that will support them during their volunteer work, and since inception they have also been trained in writing business plans, report writing, basic financial account keeping, stock-keeping, banking, and other small business management skills. They have established a community grocery shop, the profits of which will be shared amongst the group members. Villagers within the large river valley no longer need to travel a day to buy supplies in the nearest town. The store provided such items as soap, basic medicines, stationery, school supplies, and vegetables. So successful have they become that the group plan to extend the small building and add products such as hardware, tools, bicycle spare parts etc.
Last year ABM contributed to the cost of a wagon, and this has enabled the group to more easily transport supplies from the town to the community. They had to hire an ox to pull the cart, so this year we will contribute to the purchase of an ox. A solar panel will also be purchased to enable night-time operation.
ABM is partnering with the church to assist in building their capacity to carry out their Mission in their country. We will fund an evaluation of the last three years of the Gender and Governance Initiative to enable ZAC to assess the program's effectiveness, and assist them in planning the next phase of the program. Additionally, we will contribute to improving staff financial skills within the various dioceses.
ZM003GE – Gender and Governance Initiative needs $130,000 in 2015 (tax-deductible)
| | |
| --- | --- |
| | This project receives partial funding from the Australian Government. |
HOW TO DONATE
You can make an online donation to this project by selecting Zambia: Gender and Governance Initiative from the full project list.
Alternatively, for donations by cheque/money order (made out to the Anglican Board of Mission – Australia), telephone or email, view contact details here. Please don't forget to include the project name and/or code with your payment details.
Gender and Governance: The Church in Zambia