ABM Archive Website
THIS WEBSITE CONTAINS ARCHIVE MATERIALS FOR HISTORICAL REFERENCE ONLY
For up-to-date information, including our latest appeals, news, and resources, please visit our current website.
Update for Zambia Gender and Governance Initiative Project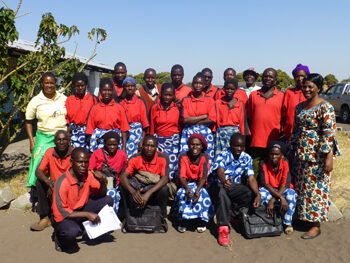 The volunteer Lui Mwemba Gender Action Group in Zambia.
Volunteer Lui Mwemba Gender Action Group continue with their part-time awareness-raising outreach, and to provide an income for themselves they have established a community grocery shop, with all members sharing any profit.
The numerous villages within this extensive river valley are benefitting from having supplies closer to home, and not having to make a day's journey to town to buy such items as soap, basic medicines, stationery, and vegetables. So successful has this business become that the Lui Mwemba group are extending the size of their store and adding such products as hardware, tools, bicycle spare parts, etc.
ABM contributed half the cost for the purchase of a wagon which has enabled the group to bring supplies from town to the community. Funding for 2014-2015 will go towards the purchase of an ox to pull the wagon so that the group do not have to hire one, and a solar panel to enable night-time operation as there is no electricity.
At a broader level, ABM will be funding an evaluation of the last three years of the Gender and Governance initiative to enable the Church to assess the program's effectiveness. This will assist them in planning the next phase of the program. Additionally, we will be funding financial skills training at the Diocesan level, to help the Church as they seek to be accountable and transparent in their program implementation.
It is important that ABM continues to support this project in Zambia, to raise awareness of gender-based issues such as harmful cultural practices that particularly impact of women and children.