ABM Archive Website
THIS WEBSITE CONTAINS ARCHIVE MATERIALS FOR HISTORICAL REFERENCE ONLY
For up-to-date information, including our latest appeals, news, and resources, please visit our current website.
Zambia: St John's Seminary – Theological Training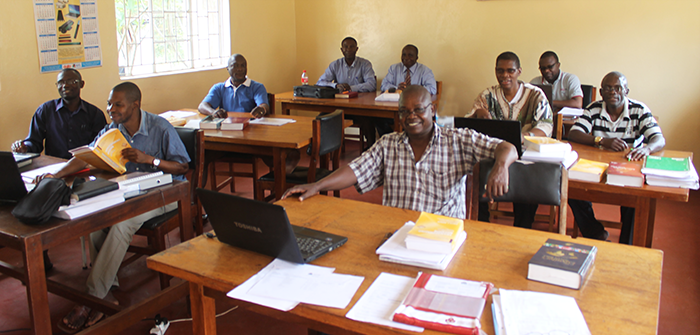 A class of honours degree students pose for a photo at St. John's Seminary
This is part of the Church to Church Program:
Learn more about ABM's Programs here.
In 2016, nine students graduated with a BA Hons University degree from St John's Seminary in Zambia. A further nine students are studying the BA Hons University program and are hoping to graduate in April 2017 with others going on to study their Masters. Such success is due to generous supporters of the Seminary.
St John's Seminary is the only national seminary of the Anglican Church in Zambia. It is the training school of ordinands and clergy from all five Anglican dioceses across Zambia. The training prepares them to minister in fastgrowing urban and rural congregations of the Church.
The Seminary does not charge tuition fees to enable students from poor dioceses to attend and is dependent on a monthly grant from the National Church. However, the grant is not enough to cover the much needed funds for seminary training expenses.
St John's is dependent on donor aid for staff salary support, maintenance, internet facility, books for the library and students' use after the training.
In 2012, St John's Seminary signed a Memorandum of Understanding with North West University of South Africa to offer the BA Hons Degree to clergy serving in parishes in order to provide them with an internationally recognised qualification rather than the in-house diploma they previously obtained. The Memorandum also covered facilitating a Bachelor of Theology degree for students (ordinands) entering ordained ministry. These two important programs cannot be achieved without the support from organisations such as ABM.
In 2017, your generous donations will be used to pay students' fees to the North West University and provide resources which the National Church cannot afford such as staff, payment for visiting lecturers, support for an internet facility, purchase of books for the library and students.
Learn more about St John's Seminary here.
ZM004TF needs $20,000 in 2017 (non tax-deductible)
HOW TO DONATE
You can make an online donation to this project.

Alternatively, for donations by cheque/money order (made out to the Anglican Board of Mission – Australia), telephone or email, view contact details here. Please don't forget to include the project name and/or code with your payment details.
Gifts to ABM will be applied to the support of project(s) selected. In the unlikely event of the project being oversubscribed or not proceeding to completion, donations will be applied to a similar project to the one(s) selected.
PROJECT UPDATE
November 2017 – Austin Lonely Ng'andwe tells about his life and journey towards ministry, spurred by a deep sense of calling by God. Read more.
June 2017 – Timothy Njovu is a theological student at St. John's Seminary in Zambia, and has a passion for evangelism and ministry. Read more.
March 2017 – Geoffrey Chatepa Banda shares his journey to becoming a theological student at St. John's Seminary in Zambia, with the ultimate aim of faithfully fulfilling his calling. Read more.
January 2017 – Stanley Katebe is a theological student at St. John's Seminary in Zambia, and has a passion to help the youth in his country. Read more.
November 2016 – Saulos Simon Mwale, a theological student at St John's Seminary, recently spoke of his life and calling, seeking to encourage others with the journey that God has placed him on. Read more.
< Back