ABM Archive Website
THIS WEBSITE CONTAINS ARCHIVE MATERIALS FOR HISTORICAL REFERENCE ONLY
For up-to-date information, including our latest appeals, news, and resources, please visit our current website.
Zambia: Gender and Governance update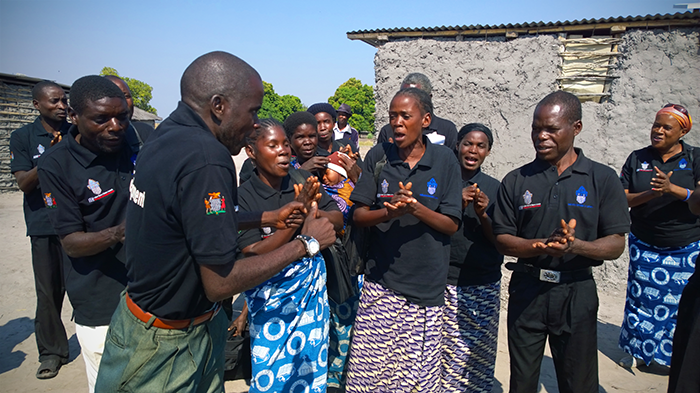 Gender Action Group Members
welcome ABM staff in Lui River, Western Province. © Julianne Stewart/ABM 2015
September 2016
In May 2016, ABM commissioned an evaluation to assess the value and impact of the Gender and Governance Program in Zambia. The results of this evaluation were recently sent to ABM, with some very positive results. The following provides a summary of what was contained in the final report.
Background
The Zambia Anglican Council Outreach Program (ZACOP) and the Zambia Anglican Council (ZAC – Diocese of Lusaka) have been partners of ABM since 2010 and 2015 respectively.
ZACOP commenced a three-year Gender & Governance Program in 2011 with ABM funding support. In 2012, this was modified to include a component to address Gender Based Violence (GBV). The three-year initiative started in July 2011 and ended in June 2014. From January to June 2015, a component of the project was continued under the management of ZAC (Lusaka Diocese) in Western Province.
The Gender & Governance Program arose out of the then National Director's passion to address gender injustice in Zambia at national, community, household levels and within the church.
The overall objective of the Gender & Governance Program was to reduce gender imbalances and enhance the empowerment of women in the project sites, and to promote good governance practices at national and local government levels by encouraging the participation of women in leadership roles in the project sites.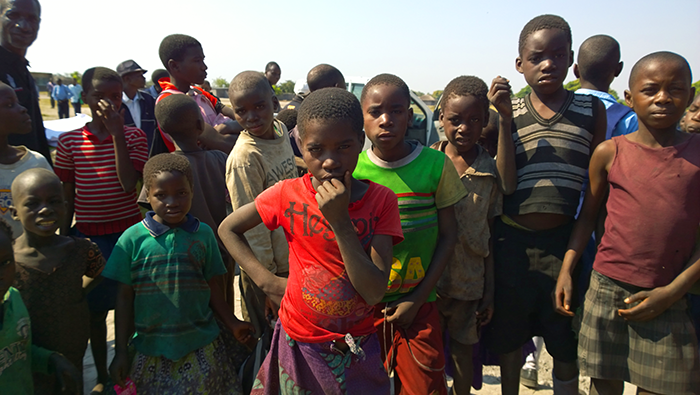 A formidable girl leads a group of curious onlookers in the Western Province. Her future is looking brighter due to the work being done through the Gender and Governance program.
Results
The evaluation found that the project had recorded significant positive results under the four result areas of project, which included:
1. Improved and sustained livelihoods for women and girls.
The evaluation established that through the Gender and Governance project, women that were beneficiaries of livelihoods and entrepreneurial skills had translated these skills into viable businesses. At the time of the evaluation, at least 50% of the women in the Gender and Governance program were running their own businesses, which had shown signs of growth. As a result of the project, women trained in livelihoods and entrepreneurial skills were now contributing towards household income, supplementing traditional methods of seasonal agriculture thereby ensuring a sustained inflow of financial resources throughout the year.
2. Eliminating harmful cultural practices against women and girls by addressing attitudes and behaviors at the root of GBV;
Key among the project deliverables included the elimination of harmful traditional practices. Notable harmful traditional practices that had been banned or stopped as a result of the project include the following:
Widow inheritance: A practice where a sibling to the deceased will inherit their widowed wife
Early/forced/child marriages: Marrying off young girls before the age of 16; forcing girls into marriage for economic gains
Removing girls from school to force them into marriage
Removing boys from school to herd cattle and other farm animals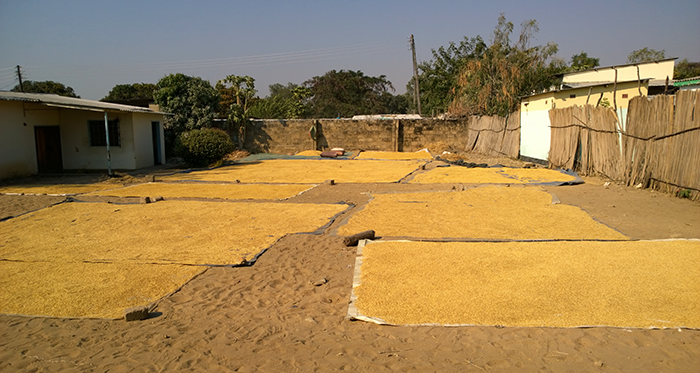 Grain dries in the sun. One of the many small business ventures that has started as a result of the program.
3. Increased participation of women in governance structures at family, community and national levels;
In Zambia culture, girls were brought up to respect a man and take care of the home and children. The situation was even strictly followed in the rural areas. Women could not take up positions in the community or even have decision-making authority at either family or community level. However, as a result of the project, the evaluation found that more women were now taking part in decision-making structures at both family and community levels. The project had significantly contributed to women's life core skills of assertiveness, decision-making and self-confidence. As a result of the project, women were now effective participants in decisions that affected the family (also because they contribute an income) and are able to speak at community meetings. In fact, the successful GAG has more than 50% of its leadership as women.
4. Reduced gender imbalances & inequalities at national and community levels
As a result of the combination of factors: women's participation in livelihoods and entrepreneurial businesses, elimination of harmful traditional practices and women's increased participation in decision-making at family and community levels, the target community has seen a notable reduction in gender imbalances and inequalities.
Recommendations
Based on the findings contained in the report, the evaluation team recommends a phase 2 that builds on the successes of phase 1 and prioritizes on working the challenges identified in phase 1.
The rate of Gender-based violence and forced marriage is still unacceptably high in Zambia, and much more work needs to be done. Poverty indicators show that Western Province is one of the poorest provinces in Zambia, with a staggering 80% of people living in poverty and 60% experiencing extreme poverty, with women more affected than men (World Bank, 2015). Program such as this will help to address the imbalances and chronic lack, providing hope for many.