ABM Archive Website
THIS WEBSITE CONTAINS ARCHIVE MATERIALS FOR HISTORICAL REFERENCE ONLY
For up-to-date information, including our latest appeals, news, and resources, please visit our current website.
Zambia: Gender and Governance update
September 2017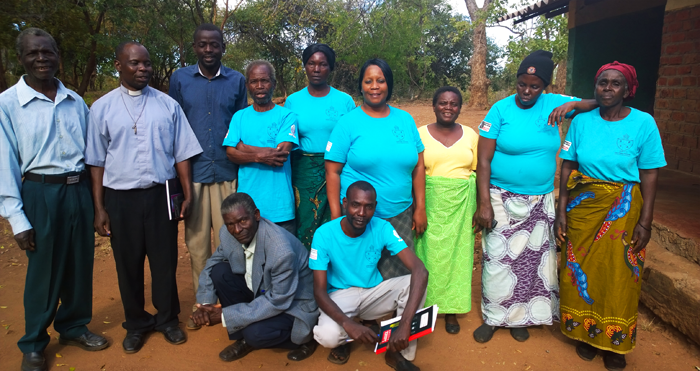 Gender-based violence executive group in Mawanda, Eastern Zambia.

© ABM/Julianne Stewart, 2017
In June 2017, ABM Programs Director, Dr Julianne Stewart, had the opportunity to visit our partner in Zambia. The Zambian Anglican Church Outreach Program (ZACOP) is managing the Gender and Governance project, which is supported by ABM funding, and is seeing some amazing changes in the lives of ordinary people.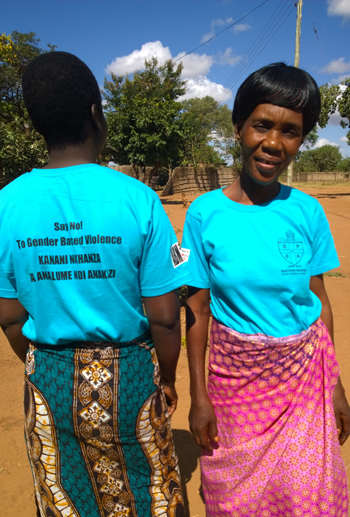 Mawanda says NO to gender-based violence. © ABM/
Julianne Stewart, 2017
During her stay, Julianne visited two villages in Eastern Zambia, Mawanda and Mzenge, accompanied by the ZACOP Head of Programmes, Mrs Jenny Meya Nyirenda, and Gender Coordinator, Mrs Royter Choongo. The three met with the gender groups that had been established through the project, villagers who have been specifically trained and mobilised to become champions for change. The training involves discussions on issues of gender equality and the ending of things like child labour, marriage of girl children, and violence against women.
These gender groups are very passionate, and comprise people from youth groups, traditional elder groups, women's clubs, and traditional counsellors, as well as key individuals such as school teachers, nurses, and priests.
Julianne also spoken with many of the community members who had heard the messages of the gender group, and had seen the dramas that had been performed to illustrate the ideas. According to the locals in Mawanda, there is an increasing awareness that girls' opinions are important, that women and men's roles can be inter-changed, that girls should not be married at a young age, and that boys should attend school instead of tending to cattle.
One community member at Mzenga village also said;
"We learned different forms of violence. One lesson I learned was that we parents are bad to our girl children. If she gets pregnant, we lock her out. This causes hurt. It is a form of gender-based violence."
ABM would like to thank all our supporters who have generously donated towards this project. Your support has led to a significant shift in the attitudes of these villages, opening the way for women, girls and boys to have a more satisfying, just and healthy life.