ABM Archive Website
THIS WEBSITE CONTAINS ARCHIVE MATERIALS FOR HISTORICAL REFERENCE ONLY
For up-to-date information, including our latest appeals, news, and resources, please visit our current website.
Zambia: St John's Seminary – Clergy Theological Training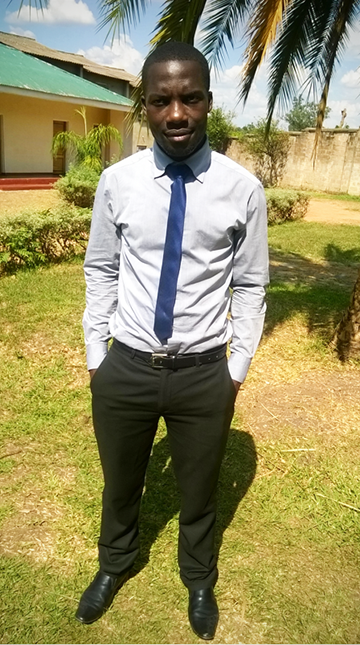 Timothy Njovu at St John's Anglican Seminary.
© St John's Seminary, 2016. Used with permission.
St John's Seminary is the national seminary of the Anglican Church in Zambia, training ordinands and clergy from all five Anglican dioceses across Zambia. The training prepares them to minister in fast-growing urban and rural congregations of the Church.
The seminary does not charge tuition fees to enable students from poor dioceses to attend and is dependent on a monthly grant from the national Church. However, the grant is not enough to cover the seminary's expenses.
St John's is dependent on donor aid for staff salary support, maintenance, internet facility, books for the library and students' use after the training.
Timothy Njovu is a theological student at St John's Seminary in Zambia, and has a passion for evangelism and ministry. He shares his story and offers thanks to
ABM's donors:
"My name is Timothy Njovu and I am in my early thirties. I was born in Lusaka, the capital city of Zambia. I come from a Christian family of three lovely brothers and one beautiful sister. I was brought up in the Anglican
doctrine of faith. As per tradition, I received my Christian foundation at Sunday School, and continued serving as an Altar assistant, later joining the Praise team at All Saints' congregation.
"I completed grade 12 at Olympia High School and studied Power Electricals. Furthermore I became a lay minister. As a young man, I received massive support from friends and members of the congregation.
Consequently, they encouraged me to work hard and develop my interest.
"I was introduced to the Ministry and Evangelism team, and had the privilege to lead this group. It was then that I made a big decision to stop working and became a full-time minister of God. I worked together with my friends as an evangelist for two years, until the diocese encouraged us to apply for the Bachelor of Theology in Church Ministry degree, through the Saint John's Anglican Seminary in Zambia.
"Luckily enough, I was accepted and am in the first year of this degree. This is a basic introduction and overview of Christian Theology and Ministry, focused on practical theology. It is an e-learning program in which lessons, questions, assignments are prepared from the main campus. While at Saint John's Semi-nary, I am enjoying the passionate and dedicated facilitators. Friendship from follow students, eating, laughing, joking, working together. It is a place of formation, encountering different behavior, and new knowledge each day.
"However, this study will last for three years and afterwards I look forward to leading a parish, so that by the grace of God I may use the knowledge that I will acquire through my study. Later I intend to go on to further studies.
Lastly I thank God for his grace and mercy and everyone who has been helpful towards my vocation. May God bless you all."
Thank you, your generous support will contribute to funding:
• Student University registration – $2,250
• Salary support for teaching staff – $3,410
• Internet – $1,000
Learn more about St John's Seminary here.
ZM004TF needs $20,000 in 2018 (non tax-deductible)
HOW TO DONATE
You can make an online donation to this project.

Alternatively, for donations by cheque/money order (made out to the Anglican Board of Mission – Australia), telephone or email, view contact details here. Please don't forget to include the project name and/or code with your payment details.
Gifts to ABM will be applied to the support of project(s) selected. In the unlikely event of the project being oversubscribed or not proceeding to completion, donations will be applied to a similar project to the one(s) selected.
PROJECT UPDATE
November 2017 – Austin Lonely Ng'andwe tells about his life and journey towards ministry, spurred by a deep sense of calling by God. Read more.
March 2017 – Geoffrey Chatepa Banda shares his journey to becoming a theological student at St. John's Seminary in Zambia, with the ultimate aim of faithfully fulfilling his calling. Read more.
January 2017 – Stanley Katebe is a theological student at St. John's Seminary in Zambia, and has a passion to help the youth in his country. Read more.
< Back