ABM Archive Website
THIS WEBSITE CONTAINS ARCHIVE MATERIALS FOR HISTORICAL REFERENCE ONLY
For up-to-date information, including our latest appeals, news, and resources, please visit our current website.
About St John's Seminary
MISSION
St John's Anglican Seminary has a strong sense of mission, seeking to educate and equip men and women for ministry in the church. It also seeks to provide students with the opportunity to have a deep and personal knowledge of Jesus Christ to help in building God's kingdom and to transform society for Christ.
This mission is expressed in the following aims;
To develop confident and ambitious graduates equipped to shape the Zambian Community
To provide theological education that promotes both intellectual initiative and the highest academic standards and to prepare students for life and career
To be the Theological school of choice for Church Ministry
To be a Theological School recognized both nationally and internationally for the effectiveness of our teaching and the relevance of our research
To develop leadership for tomorrows Zambian Anglican Church.

ABM SUPPORT
In 2018, ABM helped to support 4 graduating students of Honours Programme, 9 students of Bachelor of Theology programme, and three full time staff.
St John is pleased to announce that it will be commencing a four year in-house programme starting in September 2019. This will be an exceptionally high standard programme developing students into well rounded leaders for the Anglican Church in Zambia.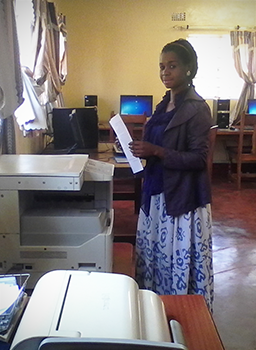 St. Johns Seminary computer laboratory
HISTORY
Anglican clergy training in Zambia goes back to 1932 when four students were ordained as deacons, after two years of special training at Fiwila (in central Zambia) to serve the Diocese of Northern Rhodesia. Clergy training then moved to nearby Kakwelesa in 1939, and twelve years later to Kabulonga, Lusaka. In 1972 St John's was closed and there was no theological training for the clergy from 1972 to 1982. St John's Seminary was re-opened in Kitwe at Mindolo Ecumenical Foundation (MEF) in 1982 with training being done at United Church of Zambia Theological College (UCZTC) up to 1990 when St John's Seminary was officially separated from UCZTC. The Seminary is located to the city centre of Kitwe and along Chingola highway making it easy accessible by road. As part of the institutions within MEF, St John's Seminary has a cross denominational character that enriches its traditional Anglican polity and orthodox faith.

PRESENT DAY
The Seminary has reasonably sound book stock for theology and religious studies in the library (about 13000 books) with additional purchases being done to ensure holdings are up-to–date. The Seminary is also blessed in being able to draw on the expertise of tutorial staff from other Christian denominations, including the United Church of Zambia and the United Methodist Church, alongside Anglican full-time and part-time staff members.
The Seminary provides a number of computers in the library and has a computer laboratory with about ten computers for commercial use by the surrounding community. All the computers are connected to a twenty-four hour internet service that helps the students in research and communication. The Seminary also provides print and copy facilities on demand.
< Back