ABM Archive Website
THIS WEBSITE CONTAINS ARCHIVE MATERIALS FOR HISTORICAL REFERENCE ONLY
For up-to-date information, including our latest appeals, news, and resources, please visit our current website.
Zambia: St John's Seminary update
January 2017
Stanley Katebe is a theological student at St. John's Seminary in Zambia, and has a passion to help the youth in his country. Here is his story.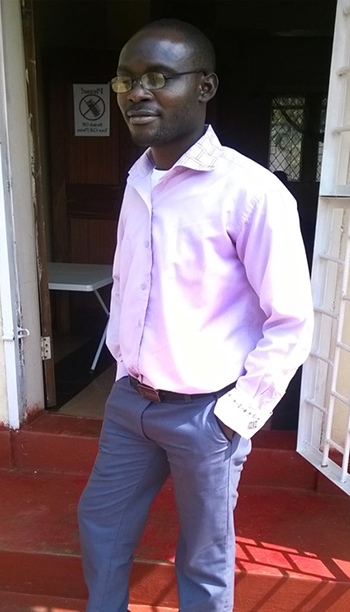 Stanley Katebe at St. John's Seminary.


© ZAC Used with permission 2016
My name is Stanley Katebe and I am 27 years old, ninth born in a family of ten. I grew up in Ndola, and did both my primary and secondary education in that same town.
I was born into a Christian family, both my parents being Anglican, and I was baptized and confirmed in the Anglican Church. My grandfather was also a catechist in the same church.
I started thinking about becoming a priest when I was in grade five, having being inspired by Rev. Fr. Emmanuel Katandula, who was my parish priest. I used to serve with him at the altar, and he motivated me a lot in this and other church activities. I was also encouraged by one of the church leaders Mrs. Florence Mumba, and being my mentor she taught me how to interact with other people, and how to lead others. God also spoke to me in dreams and revelations, and through the church leadership, and I answered Gods call in 2015 by applying to study at St. John's Seminary.
This is the only Anglican seminary of its kind in Zambia, and I have found the clergy training to be very helpful. I now feel I am getting more understanding of theological issues, as part of my essential formation.
After finishing the training from the seminary I would love to work in full-time ministry, focusing on my passion for working with youths. This is because have worked with them for many years, and I know the strengths and the weaknesses of youth. Therefore, I would like also to do further studies in this area.
I would like to thank you all, for your support in terms of financially, materially, spiritually and the recommendation to this call, may I simply say God bless you all. Amen.