ABM Archive Website
THIS WEBSITE CONTAINS ARCHIVE MATERIALS FOR HISTORICAL REFERENCE ONLY
For up-to-date information, including our latest appeals, news, and resources, please visit our current website.
Zambia: St John's Seminary update
March 2017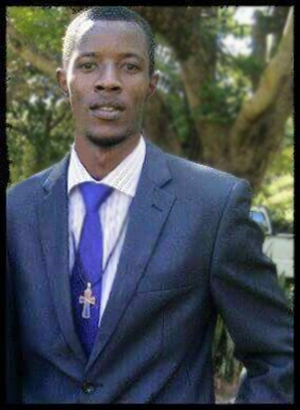 Geoffrey Banda at St John 's Theological College.
© ZAC Used with permission 2016
Geoffrey Chatepa Banda shares his journey to becoming a theological student at St. John's Seminary in Zambia, with the ultimate aim of faithfully fulfilling his calling.
Here is his story.
My names are Geoffrey Chatepa Banda, and I was born in the copper-belt province of Zambia. I grew up in Lusaka the capital city of Zambia, and come from a family of four siblings. I was raised in a Christian home, and worship with the Anglican denomination. From childhood my parents helped me a lot in my Christian faith by raising me through upholding Christian morals and values, and they took me to Sunday school. Later they even encouraged me to join the Boys brigade and serve at the altar.
I felt the conviction of the call to priesthood in the year 2009. Prior to this I was serving as a lay person, but when I felt the call, I approached the leadership of the church for guidance. In 2010 I was employed by the Cathedral of the Holy Cross in Lusaka, as a Youth coordinator under the supervision of the Dean of the Cathedral. He helped me greatly in mentoring me through this time. In 2012 I was elected as diocesan Youth and Children's Ministry Coordinator, and in 2015 was seconded on missions' placement for a year. This was at one of our rural congregations, and was part of my priesthood discernment process under our training chaplain. My task was to take care of the congregation, including pastoral care and preaching on Sundays and mid-week Services.
This discernment process helped me build my passion, making me sure of my conviction, as well as publicly affirming my selection for further training. In all this I learnt so much, and I give God the Glory.
In Zambia we have one Anglican seminary, which is St. John's seminary in the copper-belt province in Zambia. This is about 350miles north from the capital city Lusaka, and our dioceses decides whether a candidate will be sent here for training.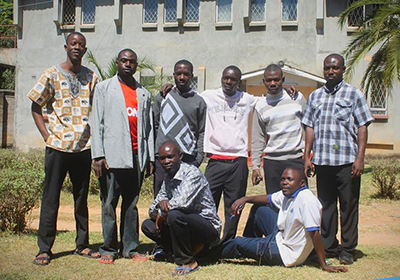 Myself (far left) with my fellow seminarians in the seminary.
The building behind is double storey, upstairs is the library and
hostels, and downstairs are the classrooms and the chapel.
© ZAC Used with permission 2016
I have been in the seminary for a year now, and so far have greatly benefited in many areas of life. Spiritually it's been faith building – these theological studies have built my faith in ways that sometimes do challenge the faith, but it's helped me prove and affirm my faith. My studies have also helped me to understand the bible better, by learning through studying the books in-depth.
After I complete my seminary training, I plan to pursue further theological studies. Also, I wish to equally use my theological training to the benefit of humanity through the sharing of this knowledge.