ABM Archive Website
THIS WEBSITE CONTAINS ARCHIVE MATERIALS FOR HISTORICAL REFERENCE ONLY
For up-to-date information, including our latest appeals, news, and resources, please visit our current website.
Zambia: St. John's Seminary update
November 2017
Austin Lonely Ng'andwe was born in Ndola on the copper belt of Zambia in 1990. He is now 27 years old, and has since moved to the capital city of Lusaka where he studies with the St. John's Seminary online. In the following article, he tells about his life and journey towards ministry, spurred by a deep sense of calling by God.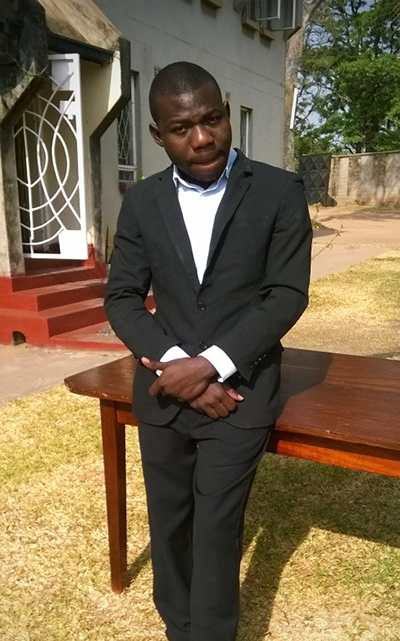 Austin Lonely Ngandwe at St. John's Seminary.

©ZAC Used with permission
MY BACKGROUND
I have a lovely family, with 8 siblings and strong Anglican parents. I have been a Christian since birth and an Anglican to the bone. I thank God for the privilege of being born into a family that fears the Lord; because of the mentorship of my parents, I have grown up in the fear of my heavenly Father and the realization that He alone is the King of kings, the answer to every question of life.
ABOUT MY CALLING
I started having the passion for priesthood at the age of 15. It all started as a desire from seeing the work that priests performed in the Church, which persuaded me to join the Altar servers group. It was through this group that opportunities came to associate with different priests, and the more I mingled with priests, the more I began to see the need of God's vessels in the Church.
I developed the thought that if we are to move forward, it is important that everyone rises up and participates in the works of God. Hence the Church will only grow if everyone is working to encourage, build up and change lives.
After my time working as an Altar server, I was given the responsibility of a youth chairperson, while also participating in the duties of the Church like occasionally preaching in main service. Congregants appreciated what God had invested in me and wished me to go further into ministry. The opportunity came from God through the Right Rev Bishop of Lusaka diocese, David Njovbvu, who sent me to Mumbwa's St. Michaels congregation as an evangelist for 2 years. By His grace, I have now come to the St. John's seminary with the help of the diocese.
LIFE AT SEMINARY
Currently I am at St. John's seminary studying a Bachelor of Theology in Church ministry, as distance education student. The seminary works in conjunction with the University of South Africa, and hence everything is been done via the internet to communicate with the professors for e-learning. This time at the seminary feels like a type of death and resurrection for me, where God has brought me to a place where I can experience a death to my own self and resurrection to the reality that He has called me to.
FUTURE PLANS
After completing my training, it is my wish to continue faithfully serving the Lord in the ministry that He has called me. I believe my life is meant to be a life that convicts people and helps them to think twice about themselves and aim to develop a strong relationship with Jesus Christ. In the future, it's my prayer that I would be given another opportunity to further my studies in pursuing the BA, MA and even up to PHD degree level.
Yours ever
Austin Lonely Ng'andwe
ABM would like to thank all of our supporters who have generously donated towards the St. John's Seminary. Your support of this important institution has allowed many passionate and dedicated people to pursue the calling of God on their lives, enabling the spreading of the Gospel across Zambia and beyond.