ABM Archive Website
THIS WEBSITE CONTAINS ARCHIVE MATERIALS FOR HISTORICAL REFERENCE ONLY
For up-to-date information, including our latest appeals, news, and resources, please visit our current website.
Zambia: St John's Seminary update
November 2016
One of the theological students at St John's Seminary recently spoke of his life and calling, seeking to encourage others with the journey that God has placed him on.
Here is his story.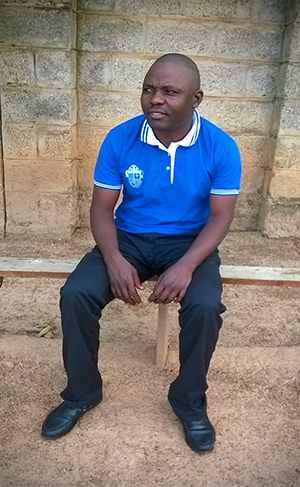 Saulos Simon Mwale.

© ZAC Used with permission 2016
My name is Saulos Simon Mwale. I was born in 1979 in Lundazi Eastern province of Zambia. I am the third born in a family of six, three brothers and three sisters. I grew up in Kamfinsa Mobile Police training college in Kitwe Zambia. My parents are both Christians in the Anglican Church of Zambia.
I was baptized and confirmed in the Anglican Church of Zambia in 1991. I felt the call to priesthood in 1997 after serving as a Sunday school teacher for two years. Since from that time the only tasks I want to do was to teach and preach voluntarily at our congregation. People made fun of me by nicknaming me young pastor or priest but this did not change my call. Instead I was proud of the title. From all of a sudden, my whole life style changed. I made the decision to become a priest and I started living my life by the standard of a priest.
The person who inspired me most was Pastor Alwisho Mweni who was at Kamfinsa Baptist Church. He voluntarily taught me the basic method of understanding the Bible, teaching and preaching. He used to invite me to help him in teaching, preaching and leading prayers in various fellowships. He encouraged me to go to a theological school in order to become an effective pastor or priest.
I got married in 2007 and moved from Kitwe town to Mkushi Boma in Zambia. I started a new life as a married person and had two children, but my call to priesthood did not change. No sooner had I moved to another area than I found the opportunity that the Central Diocese of Zambia is offering TEEZ (Theological Education by Extension in Zambia) and those who have felt the call must pay for these short courses so that they may become lay ministers in the congregation of the Anglican Church of Zambia. I did the course and I was licensed as a lay minister by the Right Bishop Derick Kamukwamba. I continued serving as the lay minister and I was comfortable because I did not stop teaching and preaching as my call demanded as well as being the helper of the priest.
In 2014 I applied at the St John's seminary by the help and encouragement of Masansa parish priest in charge Rev Fr Friday H Malaya.
The training received so far has helped me in the sense that, it has deepened my faith; it has given me a broad overview of the church, that it is bigger than I use to think. It has helped me to understand the issue of Lord's Supper, Baptism and Justification. I have come to know that priesthood is beyond preaching and teaching but a sacrifice.
My future planning is to offer myself as a sacrifice to the people to reach the needy where my services are needed. To teach the people the knowledge which I have obtained here at the seminary which could help them in their Christian life of faith, not only but also to prepare and motivate those who have felt the call to go to theological school. Consider Hosea 4:6, which says "My people perish because of lack of knowledge."
I would like also to go for further studies in order that all peoples of the earth may be blessed through my calling and obtain eternal life. Amen.