ABM Archive Website
THIS WEBSITE CONTAINS ARCHIVE MATERIALS FOR HISTORICAL REFERENCE ONLY
For up-to-date information, including our latest appeals, news, and resources, please visit our current website.
Zambia: St John's Theological Seminary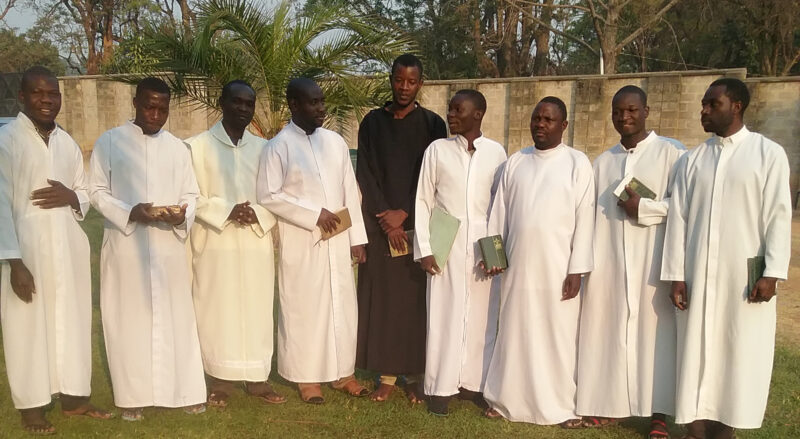 © Zambia Anglican Council. Used with permission.
Building welcoming, transforming communities
of faith – Zambia
St John's Anglican Seminary in Kitwe, Zambia was established by the Australian priest, Fr Charles Helms to train students for the Church's ordained ministry. With Covid-19 wreaking havoc world-wide, one of St John's partners had to call two lecturers home in December. Thankfully, funds from ABM's generous donors have allowed the seminary to continue to keep its doors open as they enable operating costs to be met.
The Rev'd John Kafwanka, who has just moved to parish ministry after 12 years as the Anglican Communion Office's Director for Mission, was a student at St John's. After some time studying in Melbourne, he returned in 2000 with his wife, Martha, to teach at St John's.
John says, "At that time, there were only two full-time teaching staff and about three part-time. Within six months I was the only full-time staff."
But when he left the college after three years, John had a team of five full-time and six part-time academic staff, and five non-academic staff. Computers had been acquired for the staff, and students could use them in the library, which had its book stock expanded. The Women's Training Program (for the wives of the students and other women in the community) had been re-focussed to give the women practical skills. Training was provided in tailoring and design, knitting, batik making, tie-dye, home management, health matters, counselling, English, bible knowledge and preaching. Sewing machines were acquired for this program.
"The theological formation I received in Kitwe and Melbourne, and my work experiences at St John's Seminary and then CMS were important preparation for the work I was to do later at the Anglican Communion level," says John.
In his role at the Anglican Communion Office, John has helped national Churches and mission agencies coordinate their work. An outcome was the Anglican Church Growth Initiative, now called Anglican Discipleship.
So, by donating to St John's Theological Seminary you're joining with others who want to see the college continue to produce quality graduates with a passion for making a positive difference whether at a local or a global level. You'll be ensuring that ABM can help the staff and students to transform the world by making things better one step at a time.
This project needs $24,500 in 2021
HOW TO DONATE

Alternatively, for donations by cheque/money order (made out to the Anglican Board of Mission – Australia), telephone or email, view contact details here. Please don't forget to include the project name and/or code ZM004TF with your payment details.
Gifts to ABM will be applied to the support of project(s) selected. In the unlikely event of the project being oversubscribed or not proceeding to completion, donations will be applied to a similar project to the one(s) selected.
< Back