ABM Archive Website
THIS WEBSITE CONTAINS ARCHIVE MATERIALS FOR HISTORICAL REFERENCE ONLY
For up-to-date information, including our latest appeals, news, and resources, please visit our current website.
Reconciliation as viewed by English- Inuktitut-speaking Church in Ottowa
June 26, 2018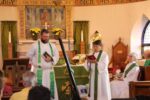 (From Anglican Communion New Service website, June 25, 2018)
Reconciliation is doing "with", not "for" – English- Inuktitut-speaking Church in Ottowa
[Anglican Journal, by Art Babych] Reconciliation is more than just a recognition and admission of things that the church has done wrong, says Jason Pollick, incumbent at St Margaret's Anglican Church in Ottawa, home to an Inuktitut-speaking congregation. "And it's not just about correcting these errors, because they can't be undone," he said in an interview with the Anglican Journal. Many churches still do reconciliation "for, or to" Indigenous peoples, "whereas, the word that is used around here all the time is we do reconciliation 'with'", he said.
"It's actually being in the kitchen together, doing actual things like breaking bread, having communal meals, trying to learn more about each other's cultures, listening to one another."
Sunday morning worship services in the small, historic church in the Vanier area of Ottawa usually consist of two Anglican worship services, one English-speaking at 9.30 am, the other in Inuktitut at 11.30 am.
On this day, it was an "All-Together" service at 10.30 am, where Pollick spoke in English, and assistant curate, Aigah Attagutsiak, spoke in Inuktitut. The homily, explaining the work of the Primate's World Relief and Development Fund (PWRDF), was given in English by Jane Maxwell, PWRDF's diocesan representative. PWRDF is the relief and development agency of the Anglican Church of Canada.
The offertory hymn, O Siem, a song by Inuk singer Susan Aglukark, was sung in both languages.
The tiny church was filled to capacity, leaving many worshippers with standing room only, as several children accompanied rector's warden Jane Waterston walked downstairs for their Sunday school lesson.
St Margaret's is an amalgamation of two congregations: St. Margaret's Vanier and All Saints, Sandy Hill, which closed down four years ago.
One of the spin-offs from the reconciliation relationship between the two congregations was the launch in February 2017 of a lunch program called Igloo@206, the number 206 being the church's address on Montreal Road.
The free lunch program at noon each Wednesday in the church hall is aimed to serve the Inuit community, but is open to others, too. It is also a social venue for Inuit families, and gives them access to two computers to contact loved ones still living in the far North.
But what started with a turnout of about 20 people a week has now grown to between 60 and 70, challenging the finances of Igloo@206.
"It costs about $500 [CAD, approximately £280 GBP] a week to run things," said Rob Douglas, one of the organisers, in an interview. The food alone costs more than half of that amount, with other costs going toward honoraria and bus tickets, he said.
"A lot of the people who have the time and the talent don't have money," Douglas noted. "It's not that they want this as a part-time job."
"But we are running out of funds," added Jane Gibson, the parish's outreach co-ordinator. "We've received grants from AMR [All My Relations Working Group of the diocese of Ottawa] and different churches, including the United Church Presbytery," she said. "But it's using so much time getting this program going. It's to get the time to go out and look for donors that's really tricky because we don't have very many volunteers."
Pollick added, "We're trying to co-ordinate with our community ministries here in the diocese of Ottawa because we are, let's say, we're out of our depth on this one."
The food program has demonstrated there is "a very crucial need," said Pollick. "But I think my colleagues would probably agree the Inuit have so few places in Ottawa to gather together as a community."
On 21 June, National Indigenous Peoples Day, the church hall was filled with celebrants who enjoyed a meal that included Arctic char and caribou meat brought from the North.
Many stayed on after the meal to dance, play Arctic games and watch the dramatic National Film Board film Martha of the North.
It was in 1955 that Martha Flaherty, then five, was relocated from Inukjuak to Grise Fiord with her parents and her two siblings as part of the federal government's High Arctic relocation project. Flaherty worships at St. Margaret's.
According to Statistics Canada, Ottawa has the largest Inuit population outside of the North, enumerated at 1,280 in 2016. But CBC news reported last November that local agencies say Ottawa's Inuit population could be as high as 6,000.