ABM Archive Website
THIS WEBSITE CONTAINS ARCHIVE MATERIALS FOR HISTORICAL REFERENCE ONLY
For up-to-date information, including our latest appeals, news, and resources, please visit our current website.
Reflections from ABM's Youth Ambassador
June 16, 2014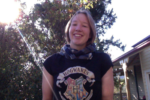 From stepping onto the plane bound for Port Moresby, PNG, to stepping behind the lecterns of churches and chapels around Tasmania, the ABM Youth Ambassadorship has been a hugely valuable experience for me, and is one that I am immensely grateful for.
Primarily, my ambassadorship has been an experience of education. It's enabled me to learn about myself, about ABM and about Papua New Guinea, about people and about movements for change, and about our place in God's mission for the poor. It's also taught me that there is genuine power in that kind of knowledge and surety. Furthermore, I pray that it has been one of education and empowerment for those I have met, and with whom I shared, in speeches and in discussion, my reflections on the Modawa Pilgrimage and on our world.
This is a prayer motivated by the fact that acting as Ambassador for ABM has consolidated within me the belief that there are certain truths and stories that ought to be widespread knowledge in creating change: the work of ABM and of organisations like it, and of how worthy it is of support and investment; the suffering of our brothers and sisters throughout the word and the great injustice it poses, accompanied by the fact that we are in a serious position to alleviate it; and the compassion that God has, and how best to respond to the call He gives for us, too, to be compassionate. I have endeavoured to convey these as ABM's Youth Ambassador.
Once more, I am so grateful for the blessing that has been the Youth Ambassadorship, and I continue to pray that it may also be a blessing to others through God's work in my life and through ABM.
Rowena Clark-Hansen
ABM Youth Ambassador