ABM Archive Website
THIS WEBSITE CONTAINS ARCHIVE MATERIALS FOR HISTORICAL REFERENCE ONLY
For up-to-date information, including our latest appeals, news, and resources, please visit our current website.
2008 Partners Magazine Spring Edition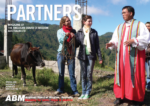 Hello and welcome back to Partner's Magazine!
It's been a while but we haven't been sitting on our laurels – as you will discover inside, an enormous amount has been going on with our Partners across the world and at home here in Australia and we are excited to be able to tell you about it. There have also been a few changes of staff and we want to tell you about that too.
Since the last edition we have been looking very seriously at how we go about presenting Partners to you and how we care for the environment – we trialled this edition size and you told us you liked it. You also told us that maybe we were sending information like Partners a little too often – so now we will only send partners twice a year and our Project Book in between.
Now we would like to ask for your help – we purposefully changed our magazine size as you know because we were concerned about our environment AND because we wanted to get the good news about ABM's work into as many hands as possible.That's where you come in:
Receiving Partners on-line
If you receive this as an individual – you may want to decide that you now receive Partners on-line and save on paper and postage costs. To do that go to www.abmission.org – locate the tab on the top right-hand side of the Home Page that says Join Our Mailing List – enter here and sign up. Don't forget to tick the box for Partners Magazine as well as other things. For a little while there will be some cross over and you will still receive Partners by mail to make sure you have it – please bear with us as our volunteers help us get the system operating properly. If you are not on computer don't worry – we will still send you Partners in the same way
through the post.
Getting Partners into more hands in your Parish or School
Far too often we see Partners magazine languishing sadly at the back of the church or on an information table – not being handed out. The new size of Partners fits simply and easily into your pew sheet or newsletter in the parish or at school – will you help us get it out to more people? If you are part of a school or parish that orders Partners – we would like to encourage you to increase your order so that everyone who takes a pew sheet/newsletter finds a copy of Partners inside. The bulk mailing to your parish or school includes a form to fill in to increase your Partners Magazine numbers. Please encourage your priest/chaplain or mission secretary to send this back and let us know how many more copies you would like to have and we will adjust your order – then all you have to do is slip it into the pew sheet/newsletter on the week that it arrives and help in sharing the great news about ABM and the work of our partners amongst those in great need.
Thank you for helping us – we hope you enjoy this edition.
Debra Saffrey-Collins
Communications Co-ordinator
Download document

2.39 MB