ABM Archive Website
THIS WEBSITE CONTAINS ARCHIVE MATERIALS FOR HISTORICAL REFERENCE ONLY
For up-to-date information, including our latest appeals, news, and resources, please visit our current website.
2008 Pew Reflections – Fourth Quarter (Oct – Dec)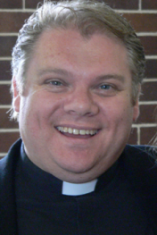 They have been written by The Reverend Lyndon Sulzberger who is the Rector of Christ Church North Adelaide. Born in Tasmania, Lyndon has been married to Rachele for the last 17 years and they have 3 children, Ethan, Emily and Luke. He writes that in his spare time he enjoys music, reading and fine food.
Lyndon is passionate about mission, people coming to know the love of God for themselves and being able to articulate their faith. In these Reflections he challenges each one of us to do exactly that and to be as passionate. Whether we are considering the words of Jesus in Matthew that encourages us to become disciplined in the reading of the scriptures, considering the ways in which we may be humble of heart, or the blessings that each part of the Christmas story gives to us – there lies the opportunity to be passionate about our faith and all that we would want to share with those we meet each day. Lyndon calls us to celebrate all these things in the here and now and pray for a future where all are called to the love of Christ.
These Reflections are also the last I shall be involved with for the foreseeable future as I am completing my ministry with ABM to take up a position with the Brotherhood of St Laurence in Melbourne. I take this opportunity to record what a great privilege it has been to serve God through ABM for the last 14 years and to be involved in projects such as these Reflections over the last eight years (since taking on the communications role). It really has been a great joy to work with wonderfully talented people in the writing and preparation of the Reflections, and to meet so many of you and know how well they are received each time. Did you know that more than 1100 people receive them every quarter – and ring us when they haven't been received … we think that's pretty good!
Thank you for your encouragement and support – I hope you continue to enjoy all that the Weekly Reflections have to offer in the years to come. And from all of us at ABM may you also know the blessings of the Christ child as we yet again move towards the celebration of that humble birth.
Yours in God's Mission
Debra Saffrey-Collins
Communications Program Co-ordinator
Download document

610.5 KB