ABM Archive Website
THIS WEBSITE CONTAINS ARCHIVE MATERIALS FOR HISTORICAL REFERENCE ONLY
For up-to-date information, including our latest appeals, news, and resources, please visit our current website.
2010 Partners Magazine Autumn Edition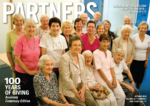 100 Years of the Auxiliary
It was in 1850 that William Grant Broughton, the Bishop of Sydney and the first and only Bishop of Australia, met with the Bishops of Tasmania, Newcastle, Melbourne, Adelaide and New Zealand and established the Australian Board of Missions (now known as the Anglican Board of Mission).
Sixty years later, in 1910, the Auxiliary was formed. For most of its life, membership of the Auxiliary was limited to women, however it is now open to all friends of ABM. The Auxiliary fills a vital role. An organisation such as ABM needs a group of committed friends who support the organisation with their prayers and interest as well as with their money. The Auxiliary continues to support ABM in this way with amazing energy, enthusiasm and commitment.
It is been a great privilege to serve as the Patron of the Auxiliary over the past five years and a special honour to conclude my term as Patron in the Auxiliary's centenary year. As a previous member of the Board I was well aware of the significant role the Auxiliary has played during the past 100 years.
In addition to prayer and enthusiasm for Christ's mission, members of the Auxiliary have supported an amazing number of special projects. ABM would not have been able to fund many of these projects without the support of the Auxiliary. In its centenary year, after consultation with the National Director, the Auxiliary resolved to fill the gaps and ensure that all of ABM's current projects are funded.
As with any Christian organisation the starting point for every member of the Auxiliary is a deep love of our Lord Jesus Christ. Without the risen Saviour to transform our lives, the life and witness of both the Board and the Auxiliary would be pointless.
Bishop David McCall
Download document

1.21 MB