ABM Archive Website
THIS WEBSITE CONTAINS ARCHIVE MATERIALS FOR HISTORICAL REFERENCE ONLY
For up-to-date information, including our latest appeals, news, and resources, please visit our current website.
2011 Partners Magazine Autumn Edition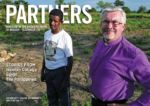 A Time for Reflection …
Dear Friends,
At the time of writing, we are still trying to assess the devastation which has engulfed the north east of Japan. Another earthquake, another tsunami, many thousands missing, massive destruction and the threat of a possible meltdown in at least one of Japan's nuclear reactors. All of this combining to shatter lives that may take a generation to recover.
It would be bad enough if this were a one-off event but so far this year alone, we have been appalled by the number and ferocity of the natural disasters which have beset our world and in particular our region.
In Australia, there has been flooding in Queensland, Victoria and New South Wales; bush fires in Western Australia and a cyclone, again in Queensland. Elsewhere south of the equator, there has been a landslide in Brazil and earthquakes in New Zealand and China.
As we wait once more to count the human cost, let us remember that all this pain and suffering has been gathered up in the crucifixion of Jesus and the message of Easter is one of hope and renewal.
As those who are called to participate in God's mission, we are tasked to be agents of hope, renewal and transformation.
As Christians, we have a responsibility to "protect, care for and renew life on our planet" at challenging times as well as bountiful times. By supporting our sisters and brothers in our Partner countries through our prayers, our emergency relief work and our projects, we bear witness to the light which darkness shall never overcome.
This year, we have two new projects in the Philippines and the Solomon Islands which tackle the effects of a changing climate. Thousands of lives are potentially going to be affected due to rising sea levels and changes to the environment. With appropriate planning and resources we can assist our Partners to ensure that negative environmental impacts are reduced through improved practices, education and planning, and thus helping to reduce the risk and damage from possible future disasters.
Also included in this edition of Partners is a look at a Christian Training Centre in Papua New Guinea – seeking to equip future Christian leaders but desperately short of appropriate resources and we reflect on and give thanks to God for the amazing work that Bishop Andrew Proud has facilitated during his time in Ethiopia.
Through your generous and continuous support of our projects, lives are being transformed.
"Let your light so shine that others may see your good works and give glory to your Father in heaven." I wish you all the joy of the Easter season.
The Revd John Deane
Executive Director
Download document

1.5 MB