ABM Archive Website
THIS WEBSITE CONTAINS ARCHIVE MATERIALS FOR HISTORICAL REFERENCE ONLY
For up-to-date information, including our latest appeals, news, and resources, please visit our current website.
2013 Lent Resources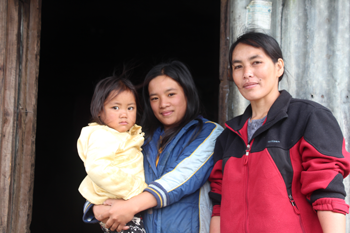 Transforming Lives
The season of Lent provides an opportunity to journey again into the wilderness in expectation of encountering God. ABM is pleased to release 5 new videos which share experiences of God's mission from around the world. We invite you to reflect upon these video stories in your own personal devotions, in a study group or as part of worship or a larger gathering.
A DVD, together with four new posters and any envelopes that have been requested, were mailed to parishes and schools at the end of January.
To request extra copies of any of the material please contact ABM.
DVD Stories
ABM Executive Director, Rev'd John Deane delivers a Lenten message that highlights some exciting developments from the past year and areas of focus for the year ahead.
In 2012 the National Aboriginal and Torres Strait Islander Anglican Council (NATSIAC) celebrated its 21st anniversary. This video celebrates the important ministry being undertaken by Aborginal and Torres Strait Islander Anglicans and highlights the role of NATSIAC as a national body within the Australian church.
The inspiring and thought provoking story of a community in the Philippines who sent back the money for their water project when they decided they could raise the money themselves. This video explores the concept of Asset Based Community Development, which emphasises the strengths and existing assets of communities rather than the needs.
A look at the Christian Education work of the Episcopal Church in the Philippines. Especially how the church trains and equips Sunday School leaders.
Meagan Morrison is an inspiring young woman who has volunteered in Papua New Guinea at Holy Name School and Anglicare StopAIDS. She was also a member of the ABM Board. In this video Meagan introduces Dogura and the Anglican Church of Papua New Guinea.
Other Resources
Sermon notes
Hymn suggestions
ABM Sunday liturgy
Slideshow of images from around the world
'And it was good…' is a five session Lenten Study developed by the Bible in the Life of the Church project. The study is a well designed exploration of the Fifth Mark of Mission. www.anglicancommunion.org/ministry/theological/bible/lent.cfm
Anglicans Online – An extensive list of Lent resources from Anglicans Online
We want to hear from you
ABM appreciates your feedback please send your comments to Education Missioner, Brad Chapman bac@abm.asn.au
Download document
4 KB