ABM Archive Website
THIS WEBSITE CONTAINS ARCHIVE MATERIALS FOR HISTORICAL REFERENCE ONLY
For up-to-date information, including our latest appeals, news, and resources, please visit our current website.
2013 Partners Magazine Spring Edition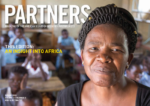 Dear Friends in Mission,
I was recently honoured to be the guest of ABM in Australia. ABM is one of the founding organisations of the Anglican Alliance, of which I am the Chairperson and John Deane, ABM's Executive Director, is one of the Alliance's Trustees.
The Alliance was set up in 2011 in response to a strong desire across the Anglican Communion to strengthen its commitments to the poor and vulnerable. It brings together the work of the many Anglican mission and development agencies that function within our Church so that the Communion can be more focused in its response and collaboration to humanitarian issues.
Since its humble beginnings, the Alliance has continued to grow and has been set up as a charity within the United Kingdom. Before then, it was supported from the offices of the Archbishop of Canterbury.
The Alliance has recently announced its new Executive Directors to take it into the next phase of its existence. With funding from its member agencies, including ABM, and donations from its supporters, the Alliance continues to work for a world free of poverty and injustice, to be a voice for the voiceless, to reconcile those in conflict and to safeguard the earth.
The Alliance, in my opinion, is a force for good. It enables Anglican Sisters and Brothers in Christ to stand in solidarity, a united voice, to stand up for those who cannot stand up for themselves.
As you read through this edition of Partners, I encourage you to pray and bless those who suffer in body, mind or spirit.
Yours in Christ,
Archbishop Albert Chama
Primate of Central Africa and Bishop of Zambia
Download document

1.5 MB