ABM Archive Website
THIS WEBSITE CONTAINS ARCHIVE MATERIALS FOR HISTORICAL REFERENCE ONLY
For up-to-date information, including our latest appeals, news, and resources, please visit our current website.
2014 Lent Resources
Mission is … Possible
This Lent ABM invites you to join us in reflecting on the possibilities of joining God in mission. ABM's Lent resources bring together stories of God at work in the world today through members of our worldwide Anglican family.
This year we have produced Intercessions and Pew Notes for each Sunday during Lent. The Pew Notes include Bible Studies by The Reverend Professor Dorothy Lee of Trinity Theological College in Melbourne.
Intercessions and Pew Notes
If you wish to copy and paste text or download individual files for each week in Word or PDF format, click on this link: http://sdrv.ms/KNGgMj
Or you can download the full notes here:
ABM's Lent App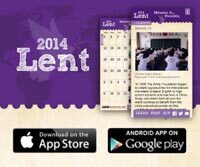 The ABM "Lent 2014" App provides you with a reflection, prayer and action for every day of Lent, starting today!
This Lent you are invited to travel (virtually) around the world with ABM exploring the many facets of mission: reconciliation, building amity, loving our neighbour, embracing kindness, loving justice and walking a way of peace.
Over the 40 days of Lent the App will introduce you to some of ABM's partners and how they are involved in making God's love known upon earth, and what you can do to join them in mission.
Download the ABM Lent 2014 Smartphone App in the Apple and Android stores:
Apple: https://itunes.apple.com/us/app/lent-2014/id823229503?ls=1&mt=8
Android: https://play.google.com/store/apps/details?id=com.abm.lent.app
An interactive web version of the App Lent Calendar can also be found on our App designer's web page. Please follow this link: Open Lent Calendar
More Resources
ABM have also released a Lent DVD which features 8 videos showcasing the work of ABM's partners. The videos are also available on our YouTube channel. More information will appear on Facebook, make sure you 'Like' the Anglican Board of Mission on Facebook.
We welcome your feedback on the Lent resources. Please contact The Reverend Jazz Dow (education.officer@abm.asn.au)
Download document
4 KB